Exclusive
Tragic New Details Revealed In Suicide Of Katy Perry's Makeup Artist Jake Bailey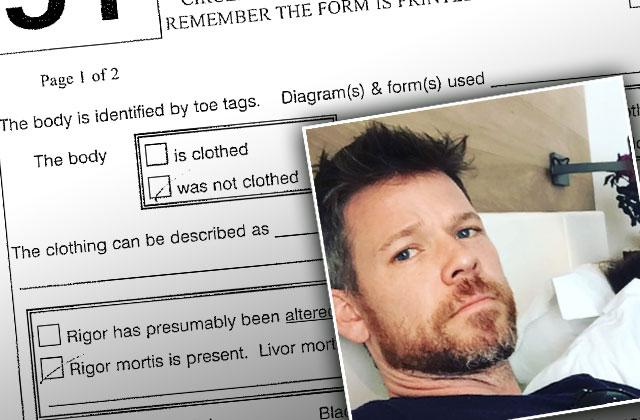 RadarOnline.com has exclusively obtained the medical examiner's autopsy report showing Katy Perry's makeup artist Jacob "Jake" Bailey committed suicide in the fall of 2015.
Bailey's body was found seated in the front driver's side seat of his Lexus SUV on the morning of October 23. The 37-year-old makeup artist's suicide was a result of "burning charcoal inside the car" in a small ceramic bowl, according to the medical examiner, resulting in Bailey's death from carbon monoxide poisoning.
Article continues below advertisement
"Handwritten signs indicating caution of vapors were taped on the passenger and driver's side windows," police wrote in a report. "A search of the residence revealed several typed and handwritten suicide notes. The notes were addressed to the decedent's mother and his personal assistant."
"The contents outlined the decedent's ongoing battle with depression, apologies, and suicidal ideations," continued the report, which also noted there were numerous prescription pill bottles for Adderall, diazepam and other medications, along with several empty wine bottles, inside Bailey's home.
"As one of the industry's most sought after makeup artists, Jake worked with an incredible client roster and his work has been featured in publications such as Vogue, Harper's Bazaar, Vogue Italia, Vanity Fair, and Allure," Bailey's grieving rep said in a statement at the time of the tragedy.
Bailey collaborated with Perry and other stars, including Nicole Richie and Mariah Carey.