Kailyn Lowry Caught Kissing A Woman At Pride Festival Amid Javi Marroquin Divorce!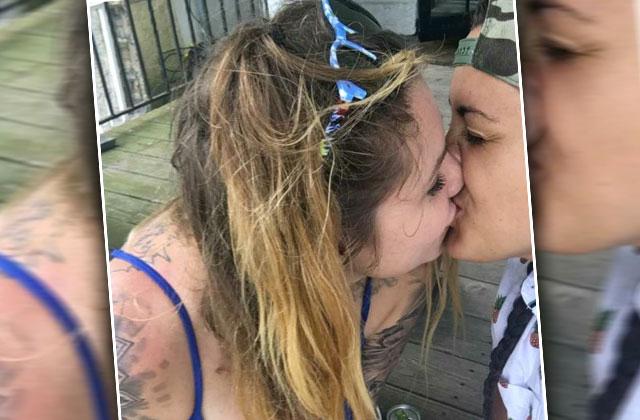 Kailyn Lowry has moved on from estranged husband Javi Marroquin only weeks after announcing their divorce – and it's with a woman! The Teen Mom 2 star was spotted making out with a woman at a pride festival in New Jersey on June 5.
In the now-deleted Snapchat, Lowry was photographed locking lips with her longtime friend Becky Hayter.
"Girlfriend status," Lowry captioned a photo with Hayter's arm around her in another picture, as the Teen Mom 2 star's friend called her a "fine lady" in her snap.
Article continues below advertisement
The women continued to flirt all throughout the gay pride festival, as Hayter was often photographed with her hands on the single mother-of-two.
This isn't the first time Lowry, 24, has been linked to lesbian rumors.
"Kail was with a girl named Shelby for about two years," a source told Star in 2012 of the middle school relationship. "Jo Rivera knew about Kail's relationship with that girl. He thought it was a phase."
Lowry has also been linked to her friend Gigi Hanna.
"Kail cheated on Jo with Gigi, but he knew and didn't care," the insider revealed.
Lowry revealed to Daily Mail that she's divorcing her estranged husband, who is currently deployed by the Air Force, after nearly 4 years of marriage.
On a recent episode of Teen Mom 2, Marroquin ended the marriage when Lowry refused to have more children.
"We texted and we talked about our future," he told his wife over FaceTime when she revealed she doesn't want more kids. "There is no future. That's a big reason why we're not going to work. Your excuse is bulls**t."
Do you think Lowry has moved on with Hayter? Tell us in the comments below!