Exclusive
Dumb Luck! Brain-Bashed Wrestler Jimmy 'Superfly' Snuka Off The Hook In Murder Case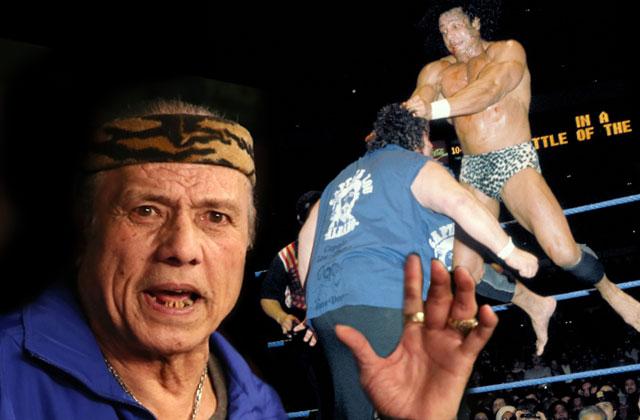 Legendary wrestler Jimmy "Superfly" Snuka is off the hook in a murder trial, RadarOnline.com has learned — all because he's not "smart enough" to face justice!
The wrestling icon was the lone suspect in the murder of Nancy Argentino, 23, after he found her unconscious in their hotel room in Allentown, Pa., in 1983.
During the testimony, which took place in a Lehigh County, Pennsylvania coutroom last month, Snuka nonchalantly addressed the judge as "hon" and "dear" and claimed he didn't know why he was in court!
Article continues below advertisement
Prior to this hearing, Snuka had claimed Nancy fell during a walk the night before, and that he found her unconscious after one of his matches.
Autopsy results showed that Argentino suffered a traumatic brain injury, and her sisters also claimed to have seen massive bruises on her body before she was buried. Charges were not pressed at the time, as prosecutors cited a "lack of forensic evidence."
However, in 2013, the Lehigh County DA announced the case was being reviewed, and Snuka was arrested and charged in September 2015.
Last year, the victim's sister Lorraine vigorously demanded Snuka be tried to the fullest extent of the law.
"I hope they send him to jail before God sends him to hell!" she exclaimed emotionally.
However, on June 1, 2016, the wrestling star was finally ruled incompetent to stand trial. But he did receive an epic slam at the same time as the news of his lucky break.
"No offense, but I don't think he's smart enough to fake it," Judge Kelly Banach said, concerning the grappler's diminished mental state.