Exclusive
'You Should Be Ashamed!' Slade's Mom Blasts Andy Cohen Over Fake Engagement Claim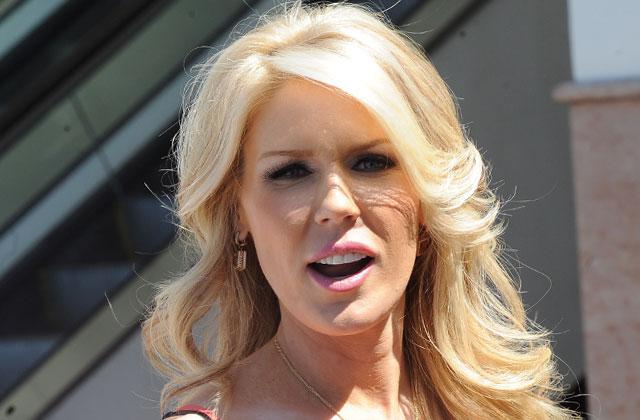 Gretchen Rossi and Slade Smiley have been engaged for three years — and insist they're still in love as ever!
But after Real Housewives of Orange County co-star Tamra Judge claimed their love was just a storyline, RadarOnline.com has learned Smiley's mom has fought back with a nasty letter — to Andy Cohen himself!
The drama began with last week's episode of Real Housewives of Orange County: Season 8 Uncensored, which showed a clip of Judge saying Rossi had "this big plan to propose to Slade" to secure her spot on the show.
Article continues below advertisement
And while Rossi, 37, and Smiley, 42, are prevented from commenting on the explosive claims made during the episode, Smiley's mother, Elizabeth Larson-Smiley, is not!
In a shocking letter addressed to Uncensored host Cohen, obtained exclusively by RadarOnline.com, Larson-Smiley, wrote, "I am the mother-in-Law (to be) of Gretchen Rossi, and mother of Slade Smiley. I am sending you this email directly and have every intention of copying it to all of the media outlets that have posted negative articles about the kid's engagement."
"I am an avid viewer of Bravo and not naive to the fact that the shows are edited for dramatic entertainment purposes; but this time Bravo have gone too far. After watching the Real Housewives of Orange County Season 8 Uncensored Special this past Monday night, you should be ashamed of yourself for the deceptive way you portrayed Gretchen & Slade and their beautiful engagement."
As fans who watched the Uncensored Season 8 episode know, cast member Heather Dubrow, 48, said on-camera that housewives WERE NOT invited to Rossi's engagement party because there was no REAL engagement!
Article continues below advertisement
But Larson-Smiley said that was an outright lie.
"More than 35 of their closest friends and family who attended the engagement party would happily debunk your claim about them just waiting for a wedding special to film it," she blasted Cohen.
"I personally witness Gretchen & Slade's deep love and commitment to one another each and every time I visit them in Orange County or at the home of Gretchen's parents in Bass Lake. They have never wavered, NOT ONCE, in their desire to one day be married. You know full well Bravo was pushing them to get engaged and get married on RHOC for Season 7 and the kids refused to do it just for TV because they were not ready yet."
She continued, "I am also personally aware and have seen the emails from your producers who did not want the other housewives attending the engagement party because it did not match with 'the storyline.' Why would your team lie and say otherwise?"
"I also read the beautiful e-mail Gretchen sent production thanking them for everything that day," she continued. "She received an e-mail from them saying ,'Gretchen you're so welcome. It was one of the best shoots we have done to date and with everything you and Slade have been through, you deserve it.' Yet, … the very producers on the Uncensored episode tried to discredit Gretchen & Slade."
Article continues below advertisement
Larson Smiley blasted, "Let me ask you Andy, were your producers being disingenuous in their response to my future daughter in-law's thank you note? Are they being deceptive now in an attempt to get more ratings? Is Bravo unwilling to tell the truth as to why Gretchen & Slade left the show? What other motivation could you or the network possibly have for distorting the truth and defaming the true love these young people have for one another?"
"How dumb do you think the viewers are? Gretchen & Slade get engaged, talk about all the dreams they have for the future, including having children together. Their lives together as an engaged couple was just beginning. But then you try and sway public opinion by using your producers to convince viewers that Gretchen & Slade don't have a story."
"I have seen the barrage of posts from fans asking Gretchen to return to The Real Housewives," Larson-Smiley insisted. "The network has never told the real story. You and I both know the truth about why she didn't return."
Article continues below advertisement
So what came out of the scathing letter?
"Bravo has since promised to delete the scenes that accused Gretchen and Slade of making up their engagement from all future re-airings of the Uncensored episode," the insider told Radar.
A source close to production told Radar, "It's really between Gretchen and the production company, but there were some inconsistencies and Bravo made some edits to make right for her. Bravo really wish them the best. But the truth is, it's been three years and they're still not married yet!"
Do you think that Gretchen Rossi and Slade Smiley made up their engagement to stay on the show? Tell us your thoughts below.