Hollywood's Secret Shame! Inside The Exotic Pet Crisis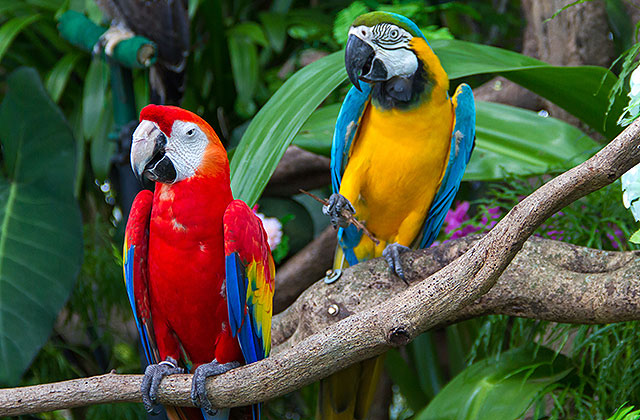 In early December of last year, retired professional boxer Floyd Mayweather shared an image on Instagram of a young tiger on a leash captioned, "early Christmas present, a rare & exotic tiger from India." A few years before that, a video surfaced showing rapper Mally Mall attempting to subdue his visibly angry pet cheetah; and just last month, Justin Bieber, who previously owned a capuchin monkey posed with a chained tiger at his father's engagement party in Toronto. For those living an ostentatious lifestyle in the limelight, exotic animal ownership equals success and wealth, a goal to strive for, something to show they've finally "made it."
Article continues below advertisement
Sadly, the celebrity-infatuated public seeks to emulate this type of behavior and there is a trickle-down effect. What is endorsed by the top strata of society gradually becomes popular amongst the masses. Kids start googling YouTube videos of exotic animals dressed costumes, performing tricks and mimicking human's behaviors; and before you know it, monkeys, tigers, parrots and reptiles top holiday gift lists.
The repercussions of wild animal ownership can be devastating – and often times deadly. Fatal Attractions, a documentary series that aired on Animal Planet from 2010-2013, focused on human obsessions with wild animals. One episode chronicled the high-profile case of Charla Nash, who had her nose, lips eyelids and hands clawed off by her friend's 14-year-old pet chimpanzee, Travis.
But humans are not the only ones in danger; animals suffer equally while residing in unnatural habitats. After the novelty of owning an exotic animal wears off, "pets" are often times chained to a tree in the corner of a backyard, kept in a basement or spare bedroom and forgotten. Loneliness catapults them into anxiety, sadness and depression; and eventually self-mutilating behaviors manifest.
Article continues below advertisement
According to IDA (In Defense of Animals), after dogs and cats, the third most popular pet in America is the parrot. Unlike dogs and cats however, parrots have not yet been domesticated and are only a few generations removed from their natural habitats – the warm, wet climate of tropical rainforests.
Parrots, especially larger breeds, make terrible pets. In order for a parrot to live in a home, humans must take away what is naturally hard wired in them; their wings are clipped, they're denied foraging for food and seeking a mate. Out of shear frustration, many develop screaming and biting behaviors. Their shrill, bone-chilling screams that can be heard from miles away are annoying and unbearable to humans, but in their native habitat are their way of communicating with birds in the distance and potentially finding mates.
Dr. Marilyn Kroplick, president of In Defense of Animals, said, "The companion parrot is wild. Even if captive bred, they possess the same wild traits as their wild born cousins who live in the jungles and rainforests. Parrots' wild traits don't usually mesh well in people's homes or even in outside aviaries. Parrots have an inherent right to remain in the wild and flying freely."
Parrot Confidential, an hour-long documentary about the U.S.'s current pet parrot crisis, notes the exotic bird trade is a multibillion dollar, world-wide industry. In 1992, after the U.S. banned the importation of wild birds, domestic breeding exploded. Now, there is a huge problem arising; thousands of unwanted parrots are being abandoned by their owners.
MORE ON:
From Our Partners
Article continues below advertisement
Former Hollywood madam-turned-advocate Heidi Fleiss is a caregiver for 20 unwanted macaws, which are long-tailed, vibrantly colored New World parrots. Her house is set up to accommodate the birds; there is lattice nailed to the walls that they scale for exercise, mirrors where they curiously gaze at their reflection, shiny toys to play with, swings and small feeding trays full of organic nuts, seeds and dried fruits.
The birds have free reign of Fleiss' desert compound and they soar openly in the blue skies above.
Fleiss reiterates these are unwanted macaws, however.
"I did not go to a pet store and purchase these birds. They're unwanted, abandoned birds that had nowhere else to go," she said.
"They're messy, destructive, expensive and squawk loudly. Caring for them is a full time, around-the-clock job, and my experience with them has taught me that these naturally wild creatures are simply not meant to be pets," said Fleiss.
Article continues below advertisement
Birdbreeders.com currently lists a variety of macaws available for purchase ranging in cost from under $1,000 to a Hyacinth macaw with a staggering $11,500 price tag. Other sites list birds selling for upwards of $20,000.
But Fleiss says, "The truth is, they are of no value. Rescues and sanctuaries in this country are over packed and they need help. It's a crisis."
One such rescue is the Los Angeles-based parrot rescue, adoption, and rehabilitation organization Parrots First, founded by Rose and Frank Levine. The rescue accepts unwanted or found parrots, rehabilitates them and works to find them qualified homes for adoption.
Rose Levine says pet store owners and breeders rely on a standard marketing pitch to close the deal when making a sale.
"They breeders and pet store owners promote them parrots as easy pets since you don't have to walk them or empty a litter box," said Levine, "but the reality is many of the birds purchased end up plucking out their feathers or mutilating their skin from lack of enrichment and loneliness, and eventually end up in a rescue like ours."
Fleiss said her lifetime goal is to help put an end to breeding parrots for pets: "Parrot breeding for pet ownership is a disgusting cycle that needs to be ended. It is time for laws to change."
To make a donation to Parrots First, visit www.parrotsfirst.org.