Brexit Could Trigger A Trump Presidency!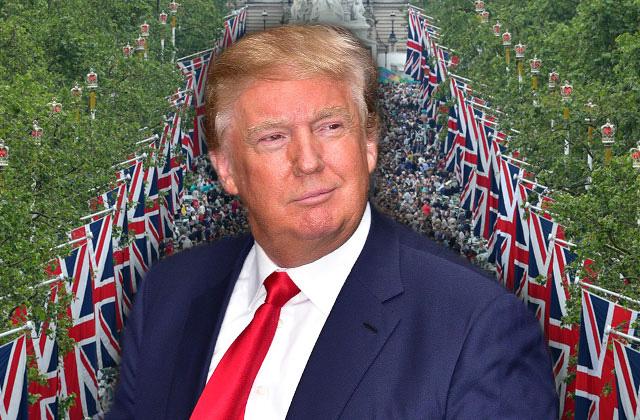 Donald Trump's presidential campaign just got a boost from an unlikely source: the UK! Politicos are beginning to claim the the nation's decision to leave the European Union could be a major signal that a Trump presidency is all but inescapable.
In a stunning vote on Thursday, the U.K. voted to leave the European Union, winning 52% to 48% against those who chose to remain.
The European Union (EU) is the financial and political partnership that includes 28 European countries, formed after World War II to "foster economic co-operation, with the idea that countries which trade together are more likely to avoid going to war with each other," according to the BBC. Since then, it has become a kind of country in itself, allowing travelers and goods to move between countries as if they were states in the U.S.
Article continues below advertisement
But many in Britain wanted out for several reasons, one of which was the belief that non-UK citizens within the EU were taking advantage of public resources, such as the National Health Service.
After the news of the vote came in, Trump released a statement supporting the move, writing "The people of the United Kingdom have exercised the sacred right of all free peoples. They have declared their independence from the European Union and have voted to reassert control over their own politics, borders and economy."
Trump then said his own election to the White House would "strengthen our ties with a free and independent Britain, deepening our bonds in commerce, culture and mutual defense."
The presumptive Republican nominee, who is currently overseas visiting one of his golf courses in Scotland, discussed the similarities between the U.K. and the U.S. "I think really people see a big parallel," Trump said, according to The Guardian. "A lot of people are talking about that. Not only the United States, but other countries. People want to take their country back. They want to have independence, in a sense."
Article continues below advertisement
British politician Boris Johnson, who endorsed the Leave campaign, could be a fitting international partner for Trump. Both have openly criticized Barack Obama, and both have attracted a discontented electorate who sought change. As the BBC reported, "Mr. Johnson promises Brits a better deal if they throw off the onerous yoke of EU regulations. Mr. Trump promises Americans a better deal if they put him in the White House."