Exclusive
Stiffed! Dennis Hopper's Son Owes Alleged Rape Victim Nearly $1M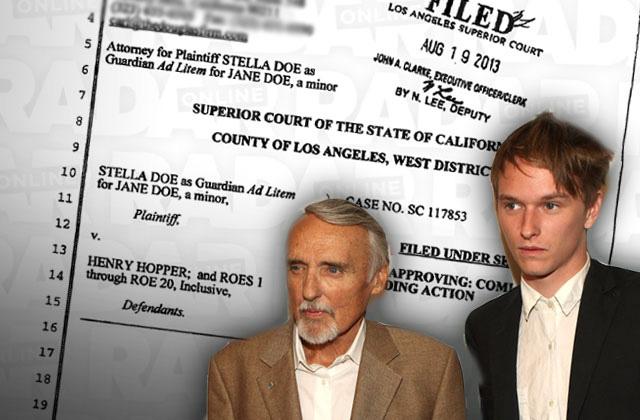 Dennis Hopper's son, Henry, has stiffed the family of the teenager he allegedly raped in 2011, a source told RadarOnline.com.
According to court documents obtained exclusively by Radar, Hopper, 25, settled a lawsuit claiming he raped a teen girl — but so far he has avoided paying up.
"Henry should be behind bars serving hard time," blasted the source, "and when he gets out, he should be on the sex-offender registry for the rest of his life!"
Article continues below advertisement
"Instead, he is living the life of luxury and spending a lot time in Europe — where his money can't be touched."
While the case was investigated by the LAPD, it was never prosecuted. So the girl's mother, identified in the legal papers as Stella Doe, sued Hopper in L.A. County Superior Court in August 2012.
The teen — identified in the lawsuit as Jane Doe — claimed the two communicated on Facebook, and Hopper eventually invited her to his home in Venice, Calif. There, on multiple occasions, he provided the then-15-year-old with drugs and alcohol and sexually assaulted her, she claimed.
Hopper's legal team settled the suit, a copy of which was exclusively obtained by Radar.
The agreement called for a total payment to Jane Doe in the amount of $700,000, of which $400,000 was to be paid in a lump sum. In addition, Hopper was ordered to pay one half of his annual earned income, in excess of $42,500, for the calendar year 2013 and thereafter, until the remaining $300,000 was paid.
"But Henry has skipped out on paying," the insider accused. "He spends most of his time in Germany making movies, and avoiding having to claim any income."
And so, the teen's mother is fighting back against the Speed villain's son!
"Now Stella Doe is pushing the LAPD to reexamine the case against Hopper," the source revealed. "She won't sleep until he is behind bars. She wants everyone to know that he is a rapist and should be locked up."
"Stella's daughter has suffered a lifetime's worth of agony — all at the hands of Henry Hopper. She was the victim of 'celebrity justice.'"