Fans Slam Cher For Using Bomb Emoji In Tweet About Turkey Terror Attack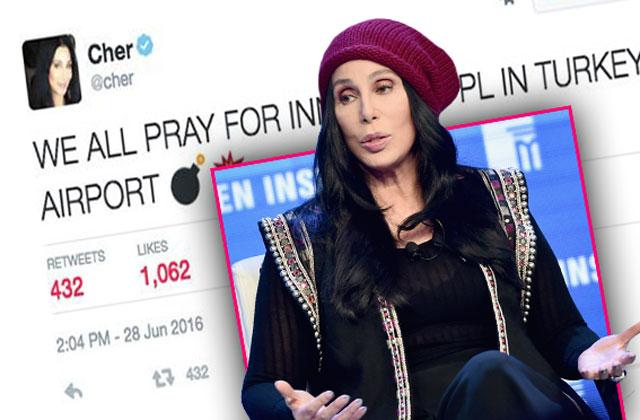 Cher may still be learning the proper etiquette when it comes to using emojis.
When the 70-year-old attempted to express her condolences to the victims of the horrific terrorist attack in Turkey's Ataturk airport on Tuesday, she opted to share the message on Twitter, saying: "We all pray for innocent ppl in turkey airport."
But the famed singer made the mistake of accompanying her touching tribute with a bomb and explosion emoji. Yikes!
Article continues below advertisement
Soon after, fans began coming after her over the insensitive tweet.
"Do we really use bomb and explosion emojis right now? Its like your promoting them," one Twitter user wrote.
"Seriously. With the bomb emoji," another added.
One fan even called Cher out for being immature, tweeting: "Really Cher? Bomb emojis? Grow up!"
Meanwhile, as RadarOnline.com readers know, the "Believe" hit-maker's failing heath has reached an all-time low in recent months.