Celine Dion Falls For Guitarist Handpicked By Her Late Husband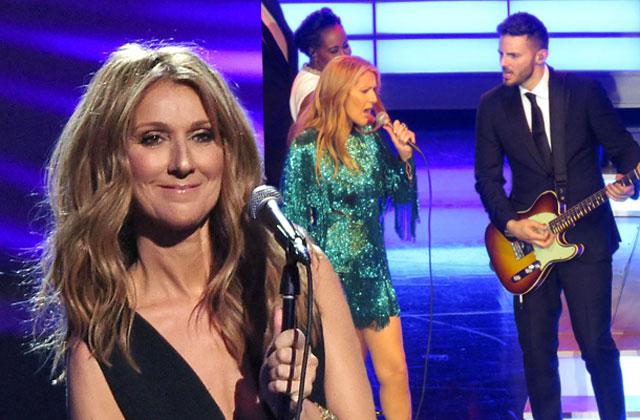 Celine Dion's late husband, René Angélil, managed every aspect of her career — including finding his own replacement for his beloved widow!
Nearly a year before he passed away on Jan. 14 at age 73 following a long cancer battle, Angélil fired Celine's longtime guitarist, and replaced him with a handsome, young stud named Kevin Girouard, reported The National ENQUIRER.
Angélil seemed to know exactly what he was doing. During her Las Vegas performance at Caesars Palace on May 17, the 48-year-old songbird shared an obviously tender moment with Girouard.
Article continues below advertisement
"Kevin couldn't take his eyes off Celine — and who could blame him!" said an eyewitness. "She looked better than ever, especially in that tiny dress."
"And Celine was definitely enjoying the attention," noted the onlooker. "It was wonderful to see her looking so happy."
Girouard is now permanently rooted in Las Vegas, where Dion lives full-time while she thrills fans with her mega-popular residency show at the famed casino.
Girouard, who's in his early 30s, has described working with Dion as "incredible," and the two have developed a deep bond over their love of music, an insider spilled.
Since Angélil's heartbreaking passing, Dion spends most of her private time secluded inside her estate off the Las Vegas strip, caring for the couple's three sons, René-Charles, 15, and 5-year-old twins, Nelson and Eddy.
But, according to insiders, she's been spending more time rehearsing with Girouard and her band as she fine-tunes her show after devoting herself to caring for Angélil in his final days.
She continues to mourn Angélil, who managed her career since she was only 12 years old, but the spark between Dion and Girouard is undeniable, sources revealed.
"No one will ever replace what Celine and René had," the insider dished.
"But René was sick for so long that Celine had a lot of time to think about what life was going to be like for her when he was gone."
"For now, she's certainly enjoying having someone young and energetic like Kevan around," added the insider. "He's such a sweet young man, and she lights up when he's in the room."