Bill Clinton Caught In 'Compromising Position' With Ex-VP's Daughter, Eyewitness Claims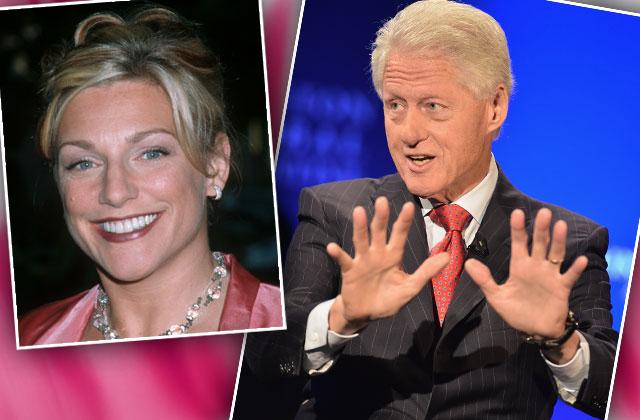 Bill Clinton was embroiled in a hush-hush White House affair with Eleanor Mondale, daughter of former Vice President Walter Mondale, an insider close to the situation claims.
As The National ENQUIRER reported back in 2011, Eleanor, who passed away five years ago, allegedly kept a diary that detailed her romantic encounters with Bill. Now, a secret service officer has penned a tell-all book, bolstering claims that the then-president was cheating on Hillary with Eleanor, among other women.
Article continues below advertisement
George J. Byrne recalls walking in on Bill and Eleanor in the White House. "There before us was E! Network host Eleanor Mondale .?.?. and President Clinton in a compromising position, that is, making out on the Map Room table," he claimed.
This affair, he alleges, infuriated Monica Lewinsky, who'd thought she was Bill's only mistress. He recalled a time when Lewinsky was forced to wait at the security booth as Bill finished up with Eleanor. "You have to wait. He's with his other piece of a-. Wait till he's finished," an officer reportedly told Lewinsky.
"What's he want with her when he has this," she allegedly responded, gesturing at her body.
According to Byrne, a longtime chief petty officer by the name of Nel was tasked with cleaning up after sexual encounters. "Nel explained that he'd been finding - and cleaning - semen- and lipstick-stained towels for weeks," Byrne wrote. "If the stains didn't rinse out, he'd carefully remove them by hand. He was terrified that if he passed them on to other Navy laundry personnel downstairs he'd not only reveal Bill Clinton's affairs, he'd embarrass the presidency itself."
Byrne also claims that he and his fellow officers frequently worried about a possible domestic violence incident between Bill and his scorned wife, who treated the men who facilitated Bill's affairs with utter disregard.
"Good morning, First Lady," an officer said on one occasion.
"Go f-?-k yourself," Hillary allegedly responded.
Crisis of Character: A White House Secret Service Officer Discloses His Firsthand Experience With Hillary, Bill, and How They Operate hits shelves on June 28.