Exclusive
Diet Or Die! Fears For 177-Pound Barbra Streisand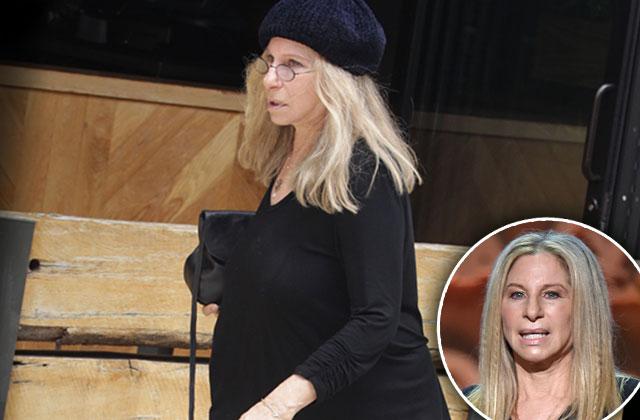 Frantic over her failing marriage and severe health issues, Barbra Streisand is looking like a rumpled, tubby bag lady — and RadarOnline.com has learned that pals fear the "Funny Girl" is eating herself to death!
The 74-year-old diva was recently spotted bumming around Beverly Hills without makeup — or a bra — looking at least 50 pounds heavier. And insiders say friends are terrified she's turned to comfort foods to cope with her emotional issues.
Article continues below advertisement
"She's pushing at least 177 pounds," one source told RadarOnline.com exclusively. "Barbra's under so much stress these days, and she's pouring all of that anxiety and pain into food!"
Insiders claimed the 5-foot-5 fading superstar has been grappling with a host of issues — including a disintegrating marriage to actor James Brolin, 75, and doctors pressing her to have a hysterectomy.
Menopausal women face a much greater risk of breast and uterine cancer, and about 10 percent of all hysterectomies are performed for cancer prevention.
But Streisand's been putting off the much-needed procedure, "and doctors have once again told her she needs to go under the knife!" said an insider.
Last October, she bolted from a medical office in a state of panic. "Barbra left the office in tears and was crying her eyes out," claimed the source.
The Oscar-winning actress and songbird is also "wracked with anxiety over the state of her marriage!" said a source close to her and silver-fox husband Brolin, who is still very much in demand with the ladies. As RadarOnline.com previously reported, the pair has been at each other's throats over James' infatuation with his Life in Pieces co-star Dianne Wiest.
Jealous Streisand also accused her charismatic spouse of having an affair with Stana Katic, 38, on the set of Castle, and flirting with Food Network hottie Giada De Laurentiis on a TODAY show appearance, according to an insider.
"Barbra doesn't feel like she can compete with James anymore — and it's dragging her down," said the source. "She's let herself go completely, and it's amplifying her health issues. We're concerned it's more than she can handle mentally or physically!"