Exclusive
Excuses, Excuses! 8 Reasons Why Teresa Blames Prison Stint On Lawyer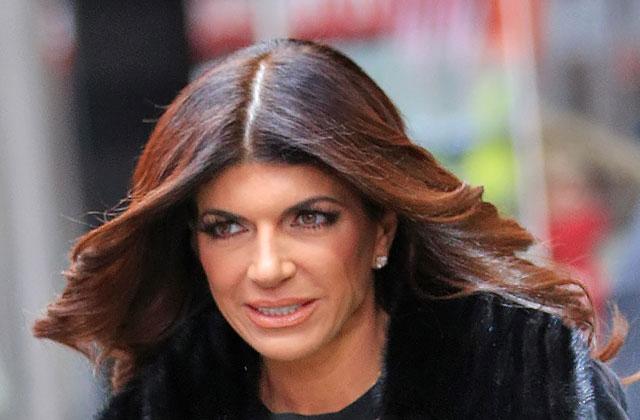 Teresa Giudice may have spent 11 months behind bars after pleading guilty to several fraud and tax evasion charges, but now that her time is done, the 43-year-old Real Housewives of New Jersey star is out for blood.
As RadarOnline.com previously reported, Giudice is currently in the middle of suing her former bankruptcy attorney, James Kridel, for legal malpractice, claiming that it was his mistakes that landed her in prison.
Article continues below advertisement
According to Giudice's complaint exclusively obtained by Radar, "it's because of Kridel's abysmal failure as an attorney, Plaintiff Giudice is… now a felon."
READ The Shocking Court Documents
"The very lawyer retained to prepare accurate bankruptcy documents literally led his client into the cross-hairs of federal persecutors, and a prison cell," the papers read.
In the lawsuit, Giudice's new attorney Carlos Cuevas says that Kridel filed the Giudices' bankruptcy papers incorrectly and left out pertinent information about the family's finances.
The case accuses Kridel of not listing Giudice's cars, homes, jobs, certain bank accounts, jobs and earnings in the initial bankruptcy filing.
Giudice then claims that Kridel had her continuously "sign under oath inaccurate" paperwork.
After the Feds sent Kridel a "target letter" informing him that his clients were under investigation, the case alleges that the attorney "still permitted her Teresa to proceed with the Giudice bankruptcy case, partake in discovery and give a deposition."
Article continues below advertisement
The case continues on to say that Kridel allowed the Giudices' legal consultations to be taped and televised on RHONJ.
In the papers, Teresa is referred to as "financially unsophisticated" and was an "unemployed housewife" from Jan. 1, 2004 to April 30, 2009 — and her husband Joe handled the finances.
It is claimed that Kridel only consulted with Joe during the preparation of the bankruptcy papers and never advised Teresa about any of the filings and treated Teresa "as if she were invisible… and a mere appendage of her husband."
"This is something that is very important to her because if she is successful proving that her attorney committed malpractice, it will vindicate to a certain extent that they relied on the advice of a professional," a legal source told Radar.