Exclusive
Drug Dealing Past Exposed! 'RHOP' Star Katie's Fiancé Andrew Arrested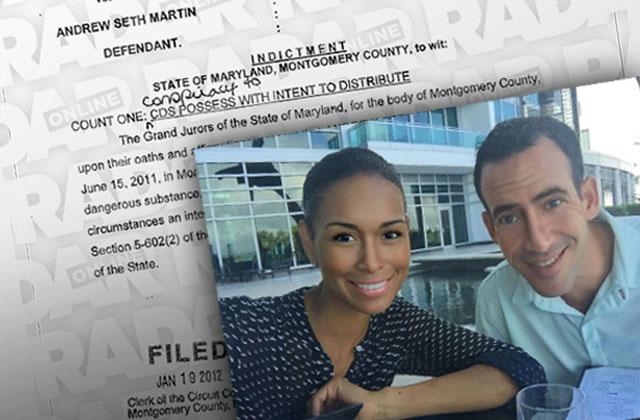 Real Housewives of Potomac's Katie Rost may have been briefly engaged to her boyfriend Andrew Martin, but RadarOnline.com has exclusively learned that the 44-year-old businessman has a dark past.
According to court documents obtained by Radar, Martin was the subject in a major drug bust which involved boxes full of marijuana and a SWAT invasion on his home.
READ The Bombshell Court Documents
Martin's legal problems began on June 15, 2011 when the Montgomery County Police Drug Interdiction Unit "removed two parcels" — which were discovered by a drug dog — from a FedEx facility in Rockville, Maryland.
Article continues below advertisement
When the police opened the boxes, they found bags of pot that were "consistent with that of possession with intent to distribute."
Listen! 'RHOP' star Wendy Osefo breaks down the "most intense fight in the show's history" in under 2 minutes.
While the boxes had decoy name on them, an address linked back to a home owned by Martin.
After this discovery, a detective "posing as a delivery person" attempted to return the boxes to Martin's home.
Another individual, who claimed to be working on Martin's home, accepted the boxes.
During this scheme, the police department and Metropolitan Area Drug task force surveyed the operation.
Nearly 20 minutes later, a Maryland State SWAT team helped the other law enforcement agencies invade the home.
Before the operation went down, Martin was spotted leaving his house and it was revealed that Martin was working the US Open Golf Tournament in the hospitality tent at the Congressional Country Club.
Article continues below advertisement
During the invasion, police found marijuana and glass pipes in Martin's room, the two drug-filled boxes which had been accepted minutes earlier, $551 in cash, a passport, "several bags" of marijuana and assorted paraphernalia in the basement, and more pot inside of a 2003 Mercedes in the garage (police seized the car).
Since Martin was not on the property, he could not be arrested.
Martin was indicted for conspiracy to possess with intent to distribute on Jan. 20, 2012.
He was found guilty and sentenced to three years of probation.