'RHOBH' Ladies Force Lisa Vanderpump To Come Clean About 'Manipulating' Behavior, Brandi Glanville Returns On Reunion Part III!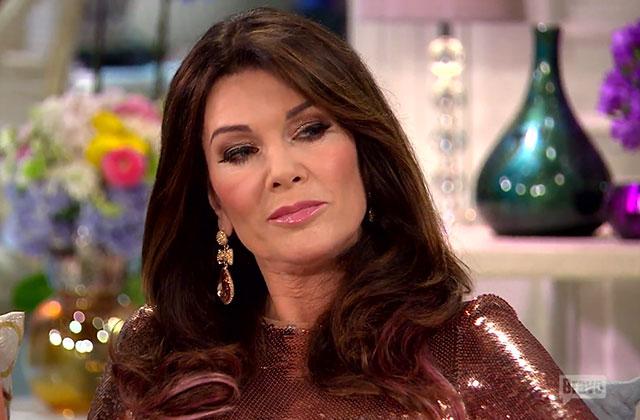 Another year, another season complete! The Real Housewives of Beverly Hills ended their three-part reunion in a predictable fashion— Lisa Vanderpump avoided all blame, Lisa Rinna owned up to saying Munchausen's, and Eileen Davidson tried to pry an apology from LVP but to no avail.
Vanderpump finished explaining her past abusive relationship to Andy Cohen when he asked her for more details. Her former boyfriend hit her "once, then twice, then I left," she said.
Article continues below advertisement
Erika Girardi offered some kinds words. "It makes you more human to all of us," she said after the consensus was that Vanderpump can be a little harsh, judgmental, and distant from the rest of the women.
Eileen attempted to gain some closure with LVP after a season of seeking an apology and even Andy chimed in. "Do you have a hard time saying you're sorry?" he asked the Brit. To which, she denied … typical.
Yolanda Confronts 'RHOBH' Ladies Who Say She's Faking Lyme Disease
Finally, someone else got the turn to speak and Erika and fellow newbie Kathryn Edwards hashed out their one issue: Kathryn went behind Erika's back and told Vanderpump that she "spins a web."
"I definitely should have handled it differently," Kathryn admitted.
The performer wasn't accepting that and answered, "Or you could have just kept it and not said anything." Kathryn disagreed and said she doesn't "roll" with dishonesty.
Article continues below advertisement
"You just told me you wanted to be my friend," Erika insisted. "What you did was a c*nt move!" Then, she blasted Kathryn for acting like as "a**" at her dinner party. Needless to say they didn't end up seeing eye-to-eye.
Kyle Richards Gets Brutally Honest About Yolanda Foster's Divorce
But do the other women agree that LVP weaves a web of manipulation? "Lisa is very smart," Yolanda Hadid added. "I've heard. I've seen it."
Surprise, surprise! Ex-housewife Brandi Glanville had a short video cameo and she hit the nail on head calling LVP a "puppeteer," complementing Kathryn on her hot, younger husband, raising a glass to Eileen who had the courage to stand up to LVP, and calling Rinna "nuttier than squirrel s--t. Like bats--t crazy." Ohh, Brandi, how we've missed you!
But the reunion conversation kept on trend as it shifted over to the Munchausen's conversation that haunts Yolanda, Rinna, LVP, and Kyle Richards.
Article continues below advertisement
Rinna accused Kyle and LVP of sending pics/texts about Yolanda back and forth and gossiping about her disease before the infamous conversation. "We all talked about the Munchausen's," but Rinna said she's the one who brought it up on camera "but Kyle and LVP knew about it."
'Real Housewives Of Beverly Hills' Season 6: Secrets, Drama & Divas!
"I never heard that word until you told me," Kyle defended. But Rinna continued, guns blazing for Vanderpump, as she told Andy what exactly the restaurateur said in the driveway.
Rinna explained, "I left. She came running out after me and said, 'Why didn't you bring Kyle into it?'"
"I thought she was going to drag Kyle into it. I thought she was going to drag us all into it," LVP said.
Eileen even backed up Rinna and said, "She's not a liar." Which was enough for Yolanda who sided with Rinna even though they've had intense problems!
Unfortunately, LVP played dumb and insisted she's not sure why she's always accused of being manipulative and doesn't feel she needs to apologize to anyone.