Caitlyn Jenner Bashes Khloe Kardashian Over Book Tour Interview On 'KUWTK' Season Premiere!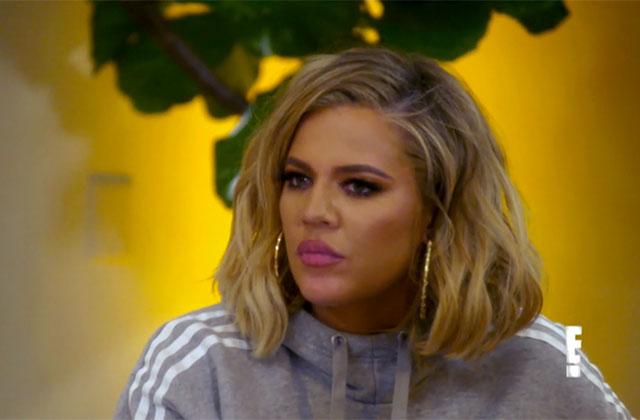 There's nothing like family and the Kardashians are back! The Season 12 premiere of Keeping Up With The Kardashians picked up right in the midst of Lamar Odom and Scott Disick drama, Saint West being born, and the black sheep, Rob Kardashian, dating outsider Blac Chyna!
Kim Kardashian was rarely spotted in this episode as she's in hiding until her post-baby body is in acceptable condition but the craziness in Khloe and Kourtney Kardashian's lives seems to be more than enough to keep the show afloat!
Article continues below advertisement
Koko was in prep mode at Lamar's new rehabilitation home before her book tour in NYC and she would have freaked out if momager Kris Jenner didn't help decorate it. Everyone thinks it's a miracle he's alive and Khloe just wants him to feel comfortable and happy so the former NBA star can continue his healing journey.
New homes were a theme this episode as viewers got a peek into Scott's bachelor pad, which is close to both Kourtney and Kris' homes. He admitted he's "trying to make up for" lost time with the family as he continues to battle depression and drinking issues. "Kourtney will always be a huge motivation in my life," he explained.
But she's not so keen on their relationship. "When it comes to Scott, I'm not looking to get back together anytime soon. I don't have specific boundaries set," she revealed in her confessional.
In a TMI moment, Khloe visited Scott and told him that she caught Rob and Blac Chyna in her house, which she thought was "disrespectful!"
"I walked in on him with Blac Chyna at my house," she said. "There was alcohol everywhere. He's having the time of his life. I don't need this s**t. Don't you dare make me feel uncomfortable in my own home."
Article continues below advertisement
Khloe was also on rough terms with Caitlyn Jenner after she got "insane, aggressive texts" from the Olympian after an interview in Manhattan. "You slaughtered my mother and you have the nerve to say, 'What happened to families sticking together?'" Khloe told Kris over the phone.
Caitlyn even went so far as to tell her former step-daughter to "get a life" and stop speaking about her to the press. "I don't have a relationship with her. I'm done," Khloe said.
Kris tried to patch things over. "I don't want her talking about me," Caitlyn said over the phone. Then, Kris rubbed the Vanity Fair article in her former husband's face and insinuated what goes around comes around.
"You were her dad since she was five years old, like give her a break," Kris said breaking down in tears.
But never count the momager out. She came back with a biting tongue when Khloe and Kim berated her for financially helping Rob out with a house, supposedly next to Chyna's home.
Article continues below advertisement
"You guys can judge me all day long, I came here to have a nice dinner, so just…everybody relax," Kris scolded. "You all have to have somebody to blame and criticize instead of saying, 'What's the problem?'"
"The problem is you!" Kim yelled.
Kris reprimanded, "No, all of you can f**k off and go think of something else to talk about. I've seen you guys through so much s--t that you do that I have to f**king put up with."
Then she reminded Kim, "I'm married for 72 days, really? That was normal." Game. Set. Match!
Not surprisingly, no one has warmed up to the idea of Rob's new GF. Kendall Jenner described it accurately: "Rob is dating someone that has kinda had a bad history with my family" and then got pissed when he re-gifted his iPad to her.
Also not out of character was Scott disappearing when he was supposed to host a family dinner. His new bestie is Kylie Jenner's boyfriend (and ex of Blac/baby daddy) Tyga and the two partied all night long.
Article continues below advertisement
Kourtney was pissed and disappointed. "Scott and Tyga have been hanging out at his house all day and night," she said to her family. "He just needs to grow up, but I'm saying not for me. For my kids." Kylie also admitted she sometimes get caught in between.
"I don't want Tyga to be, like, a negative influence on Scott," she explained. "It pisses me off that people like Tyga, who should know better, that are close to our family, that don't just, like, find some other friends."
Keeping Up With The Kardashians airs Sundays at 9pm ET on E!.