Exclusive
Shocking New Claim: Hillary Knew Bill Was A Sex-Obsessed Cheater BEFORE Their Wedding!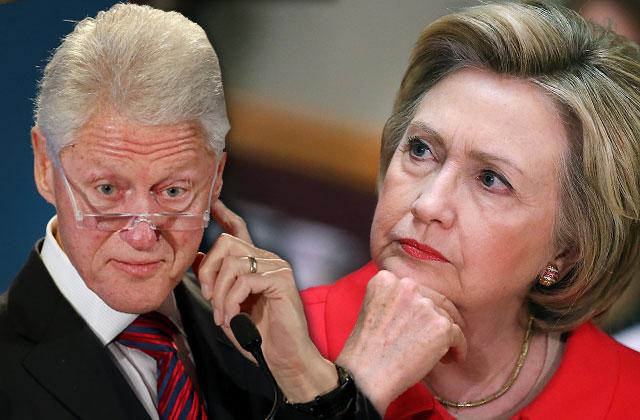 She's no fool! Hillary Clinton knew that serial cheater Bill was a sex fiend well before their 1975 marriage, RadarOnline.com has learned.
The presidential candidate launched a campaign of "intimidation" against Marla Crider way back in 1974 after discovering that the 21-year-old beauty queen was sleeping with her man, another girlfriend, Dolly Kyle, recently revealed.
"Billy Clinton is an untreated sex addict," Dolly said in an interview about upcoming memoir, Hillary the Other Woman.
Article continues below advertisement
Dolly's shocking allegations were confirmed to RadarOnline.com by a source close to Hillary.
"A few weeks before their wedding, Hillary caught him having sex with a girl in his office," the source alleged. "She said she was calling the marriage off."
However, the source claimed, he invited her cash-strapped parents and brothers to join the couple in Acapulco, Mexico, on their lavish honeymoon, correctly thinking that she wouldn't go through with the threats and let down her family.
Despite the close call, his behavior continued.
"Bill was nicknamed 'the sick puppy,' " the pal said. "When he was at Oxford, he'd sometimes have sex with three girls in a single afternoon. When a potential bedmate walked into a room, his nose would go up like a dog."
According to Dolly, Bill confessed post-coitus that he had bedded two thousand women - and he wasn't safe during the encounters, she claimed.
"Despite the rampant epidemic of HIV, AIDS, and other sexually transmitted diseases, Billy...seemed to have no concern for the health implications of his acts," Dolly alleged. "Hillary didn't seem concerned with the health implications of his sex conquests. I figured she wasn't worried because she wasn't having sex with him anyway!"