Exclusive
Cold Case Cracked? FBI Storms Mobster's Home In Search For $500M Artwork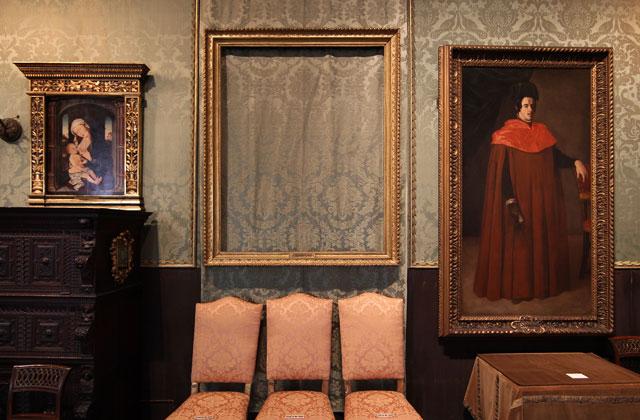 The biggest heist in world history is closer to being solved, RadarOnline.com has learned. Today, FBI agents stormed the home of notorious gangster Robert "Bobby the Cook" Gentile in Manchester, Connecticut, as their 25-year quest to solve the Gardner Museum heist continues.
Thieves raided more than $500 million in artwork from Boston's Isabella Stewart Gardner museum on St. Patrick's Day in 1990, making it the largest theft of personal property in American history. After many false starts and dead ends, the search for the 13 missing paintings seemed to have gone cold forever, until surprising new movement in the case over the past year.
Article continues below advertisement
FBI agents were on the scene at Gentile's home Monday, digging in his front yard and giving search dogs the run of the property, the Hartford Courant reported.
Sources told Radar that insiders at the FBI long believed that Gentile was the key to figuring out what happened to the works. And over the years, he has given indications that he knows more than he is letting on. But the situation has been complicated because of his position as a convicted career criminal.
In 2015, Gentile took a lie detector test with agents, and insisted that he did not have any advance knowledge of the heist The result showed a minuscule likelihood that he was truthful, but the mobster insists he is not lying.
But he has also attempted to use his alleged to connection to the case to his benefit over the years. When he was jailed on drug and gun charges from 2013 to 2014, rumors about his involvement arose, leading some to believe he hoped to turn government witness.
The FBI searched the same Connecticut home in 2012, but nothing useful was uncovered.
Gentile is currently facing another federal gun charge.
There is a $5 million reward for information leading to the return of the works by Rembrandt, Degas, Manet, Vermeer, and more.
Story developing.