Exclusive
Serial Cheater Larry Hagman Used Pot Until His Dying Day — Daughter Tells-All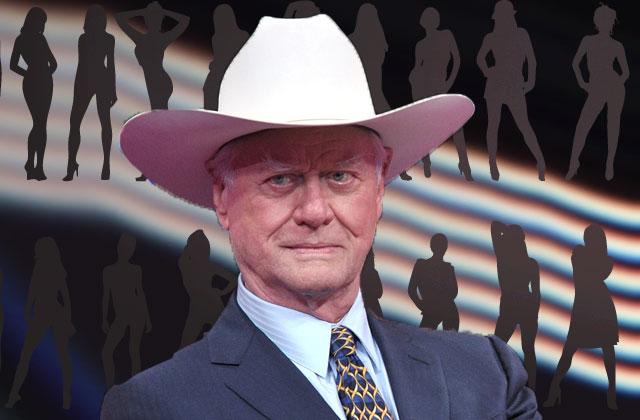 Dallas Star's Dark and Twisted Double Life Revealed!
Larry Hagman was a depraved womanizer who was caught cheating on his wife even as he lay dying from cancer in November 2012!
While parading himself to the public as the perfect husband to longtime wife, Maj, the iconized "Dallas" star led a dark double life fuelled by marijuana, LSD, booze and sleazy young mistresses!
These shocking revelations come from a blockbuster book written by his own daughter Kristina!
Article continues below advertisement
"The blissful marriage my folks always presented to the public had a sad, hidden side," she says.
One of his paramours – a brunette who was his daughter's age – visited the hospital ICU where the 81-year-old star was in the final days of his battle with throat cancer.
"(She) crawled into bed with Dad," reveals Kristina, 58, in "The Eternal Party: Understanding My Dad, Larry Hagman, the TV Star America Loved to Hate."
Shortly before his final hospitalization, Kristina discovered he had taken a second lover – a woman one year older than her -- when Hagman mistakenly sent her a text addressed to "the most BEAUTIFUL woman in the world."
Far from being ashamed, "He was excited to tell me all about it," says Kristina. "They had met while the new 'Dallas' was being shot and he was having (cancer) treatment."
His lovers turned out in force for his memorials in Dallas and Los Angeles. They included the woman who bedded him in the ICU and a TV talk show host who "made a point of telling me that being with my father for years in Santa Fe (where Hagman owned a home) had been the greatest experience of her life," says Kristina. "
Article continues below advertisement
Driven to drink by his many infidelities, and struggling with the early stages of Alzheimer's, faithful Swedish-born Maj was no match for Larry's squeezes.
"My mother, who was a few years older than Dad, (had) gained some weight over the last few years, and wore minimal make-up and had towel-dried, frosty-white hair," Kristina says.
Maj hysterically admitted to her daughter in the late 1980s that Larry no longer wanted to have sex with her and was crushed by mounting evidence of his endless cheating.
She was particularly humiliated in 1992 when it was reported he was having a lurid affair with shapely blond business executive, MaryAnn Effingham, who said the then 61-year-old star "liked gentle, but KINKY love-making."
"One time we were fooling around with his friend's vibrator and Larry broke it," she said. "It was smoking and sizzling and making weird noises. It was hysterical."
Effingham further embarrassed Maj when she said Larry "was not a happy man — especially at home. He referred to being at home as 'being in prison.'"
Article continues below advertisement
Larry's daughter described Hagman as a "happy drunk," but completely dependent on booze and pot to get through the day.
"I hardly ever saw my father when he wasn't stoned or cruising on wine," she writes. "I don't think I ever saw him sober except for a brief period just before and just after his liver transplant (in 1995), which had become necessary after he was diagnosed with alcohol-induced cirrhosis of the liver."
He started drinking heavily when he was 14, Kristina says, in "a rebellion" against the strict grandmother who brought him up. His mother, "South Pacific" star Mary Martin, was a lesbian, according to Hollywood insiders, with little interest in children or men. After her brief marriage to Hagman's father, Texas attorney Ben Hagman, broke up, she took a Paramount story editor Richard Halliday, as her second husband. It was a marriage of convenience for them both.
Article continues below advertisement
"He so completely embraced the sex, drugs and rock-and-roll ethos of (the '60s) that he lived it to the end of his days," Kristina writes. "Once he casually suggested we do LSD together." She went along with his suggestion, hoping she could "at last understand who he was."
He died on November 23, 2012 at the ironic hour of 4:20 p.m.
"This particular time was significant because 420 is the unofficial symbol for the use and appreciation of one of Dad's favorite substances: marijuana."
When Kristina checked his fridge on the day he she found it packed with pot brownies.