Bill Cosby's Attorney Blasts Court's Decision To Bring Assault Case To Trial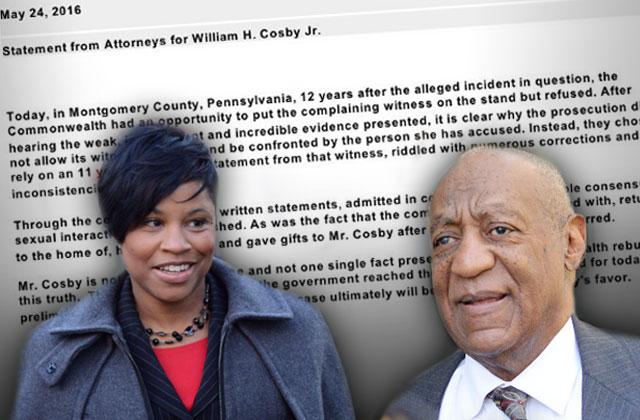 Article continues below advertisement
Constand never took the stand, and Cosby's attorney, Monique Pressley, released a statement blasting the state for refusing to make her testify.
"After hearing the weak, inconsistent and incredible evidence presented, it is clear why the prosecution did not all its witness to speak and be confronted by the person she has accused, instead, they chose to rely on an 11-year-old hearsay statement from that witness, riddled with numerous corrections and inconsistencies," said Pressley.
She then went on to note the witness in the case against her client "admitted in court, the fact of multiple consensual sexual interactions" and that "the complainant communicated with, returned to the home of, had dinner with and gave gifts to Mr. Cosby after the alleged assault occurred."
In the statement, Pressley reiterated 78-year-old Cosby's insistence that he is not guilty of any crime and that they both "have no doubt this case ultimately will be resolved in Mr. Cosby's favor."
Despite Cosby and his lawyer's adamant stance, a Pennsylvania judge ruled that the state's criminal assault case against Cosby will move forward to trial.