Kate Hudson, Angelina Jolie & More! The There Goes The Motherhood Cast Reveals Their Celebrity Mom Role Models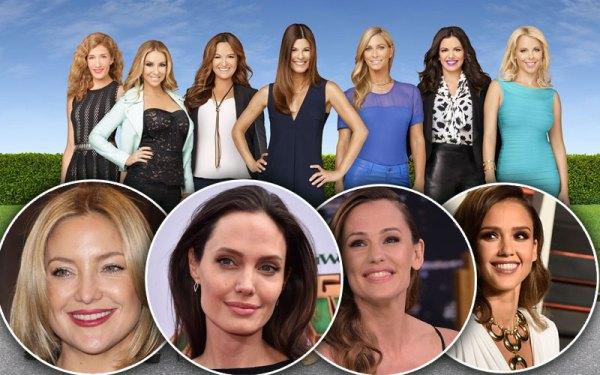 The ladies of TGTM know that motherhood isn't easy — so they turn to some celebrity role models for some inspiration and help!
Alisa Starler, 36, is mom to Greyson, 3. "Jen Garner is somebody that I relate to the most because you always see her putting her children first and you can tell her children are her first priority," she revealed to RadarOnline.com exclusively. "Also, just going through her relationship with Ben Affleck falling apart — no matter what her personal feelings are she is maintaining a really positive co-parenting relationship because it's what's best for her children. So I can relate to that and admire that in another mom."
Article continues below advertisement
Beth Bowen is mom to Kyla, 12, Johnny, 9, Lorenzo, 6, and Sienna, 4. "Kate Hudson!" she exclaimed when asked who her role model is. "I'm really into fitness, and she's a single mom, and we actually delivered at the same time at the hospital! We were on different floors, so I don't know her personally, but I think she's fantastic. She's so fun and witty and she definitely puts health and fitness as a priority as well. I think she's doing such a great job. I'm definitely inspired by her." Hudson even has her own line of activewear, Fabletics.
MORE ON:
From Our Partners
Stefanie Fair, 42, is mom to Ellington, 9, Ella, 8, London, 7, and Rocky, 3. "You look at someone like Jessica Alba and she created a whole line of children's products," she explained. "So women like that who are not only being great moms, but are also giving back and being working moms — career moms. I think it's hard to balance that. That's a goal for me as a mom to balance that."
Leah Forester, 41, is mom to twins Jett and Jade, 7. She previously worked for Diane von Furstenberg, and was close with her during their time together. She told RadarOnline.com she was inspired by seeing the way she raised her kids while becoming a fashion mogul, saying, "she obviously has a thriving business and big personality but she's an involved family person and mom. She always was. She built her empire being a young woman in her late 20s that way – jet-setting and having her children around and traveling. That was so amazing to me that she had done all of that…her kids had manners and could travel the world and seamlessly integrated into her life."
Meghan Conroy-Resich, 37, is mom to Dempsey, Hattie, and Sully, ages 8, 7, and 4. "Just because I love a wicked sense of humor, I would say Tina Fey is my role model," she said. "I believe in parenting with a good sense of humor, and I just feel like that's just such an important thing to do. It's not always going to work out in your favor, but if you can laugh it off, you're okay."
Jen Bush, 40, is mom to Rivers, 5. "The first person that comes to mind for my celebrity mom inspiration would be Angelina Jolie," she told RadarOnline.com. "I just love the way that she has adopted all of these children and had her own and made this tribe a family. And I have dreams of doing something like that some day. So to me that's someone who's really being a hands on parent, teaching her kids to do good for the world, but then also keeping herself as a woman."