Final Sit-Down! Jacqueline To Face Off With Melissa & Teresa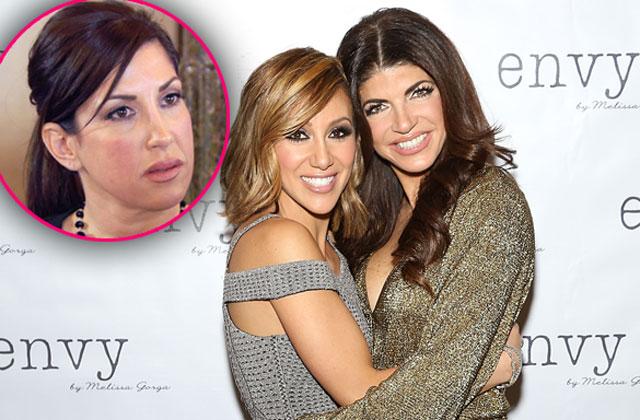 Jacqueline Laurita, 45, has been divided from the rest of her Real Housewives of New Jersey cast for weeks now, ever since she had her epic meltdown during the trip to Vermont.
But after weeks of non-stop drama, RadarOnline.com has exclusively learned that Bravo will cash in on the war by filming one final sit-down, which will be used as part of the finale for season 7.
"Melissa's fashion show was supposed to be the end of filming, but Jacqueline refused to show up at the show," a source told Radar.
Article continues below advertisement
So the producers had to come up with a second plan.
"Jacqueline will now be sitting down and trying to hash things out with Melissa Gorga and Teresa Giudice," another insider told Radar. "They are meeting on Friday."
During the Vermont trip, Laurita also went after Robyn Levy, but according to multiple sources, it's undetermined if Levy will be making an appearance on Friday.
"By not going to Melissa's party, Jacqueline thought she could control the finale in the hopes that Robyn won't be there," a source told Radar.
According to the insider, while these confrontations are supposed to serve as a means to cool down the cast war, this one is going to be a far cry from a peace conference.
"They aren't going to hug it out," the insider explained. "They are going to have it out. And then it's going to be a cliffhanger."
Since the Vermont trip, Laurita has tried to rock the boat with her former friends.
"Jacqueline is playing the victim," the insider said. "She needs to be careful."
"It's a huge disaster," another source added. "Jacqueline has been hiding and doesn't want to be near the cast. She is upset that it's backfiring."
But fortunately for production, Laurita's antics are going to give the show-runners just what they need to make the finale interesting.
"Jacqueline is trying to make TV," the source said. "The sit-down is going to be epic."