Kylie Jenner Slammed For 'Unacceptable' Lip Kits: 'Will Not Buy Again!'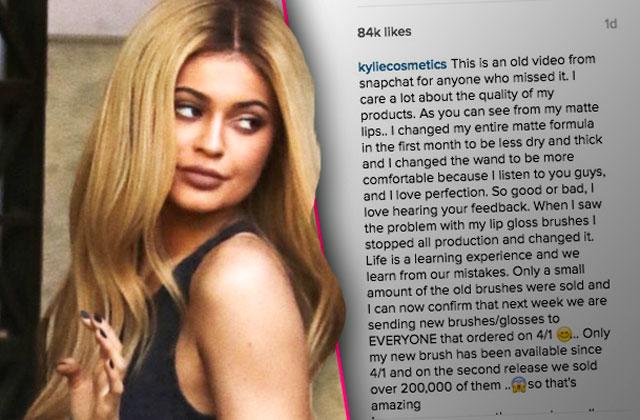 Kylie Jenner has brought in millions with her lip kits and glosses, but customer complaints may be the downfall of the makeup maven's beauty brand! Jenner has come under fire for sending defective brushes, poor quality products and more.
"So I got the new @kyliecosmetics lip glosses… SO disappointed in this product," makeup artist Jeffree Star captioned a photo of bent brushes. "That wand is unacceptable."
Article continues below advertisement
Star explained how the glosses were "brand new" and pulled "straight out of the box."
"No shade but… How the f**k can a multimillion dollar celebrity think that is acceptable?? Was there no quality control?" he asked. "So there's my thoughts… Take it how you want. I just hope she works harder on quality control and spends more time on future products."
But Star wasn't the only one to slam the Keeping Up With the Kardashians star.
"That's how mine came and ruined a pair of my favorite leggings because it exploded," a customer responded to Star's claims. "Will not buy again."
Customers are even blasting Jenner, 18, for the quality of the products.
"Your Kourt K formula is dreadful," a user tweeted. "Patchy, uneven and flaky. Have four others and love them, no problems! But Kourt K is terrible."
Jenner responded to the claims by promising to send new brushes to all customers who ordered on April 1st.
Are you surprised by the quality of the products? Sound off in the comments!