Kailyn Lowry's Husband Javi Curses Out Jo For Neglecting Son: 'You Do Nothing!'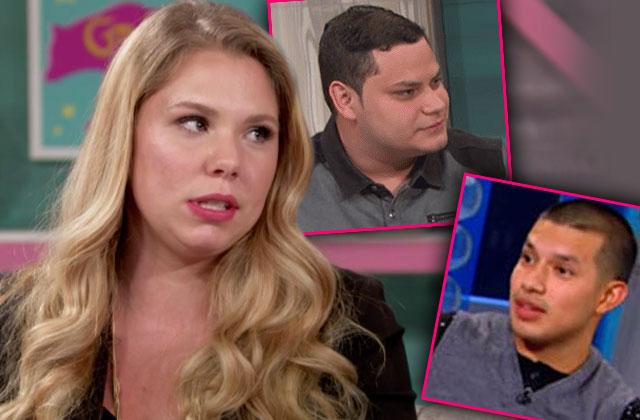 Kailyn Lowry's amicable co-parenting relationship with ex-boyfriend Jo Rivera came to an end on this week's Teen Mom 2, as he was slammed for neglecting their son.
Javi Marroquin explained to his wife how Isaac's father sent him to school in his pajamas and without a bath.
"That's really gross," the mother-of-two said. "How Isaac is dressed and how people look at him is a direct reflection of us as parents. I'm already being judged times 10 because I was a teen parent. The last thing I need is for my son to look like he just rolled out of bed scratching his head and saying he hasn't taken a bath since yesterday."
Article continues below advertisement
When Lowry, 24, confronted Rivera, he said how Marroquin "needs to take his a** home and worry about his own kid."
Although Rivera later apologized for the dis, their feud heated up when Lowry showed up to his house early to pick up Isaac.
"It's not okay for you to just show up," Rivera screamed in a video Lowry took on her cell phone. "When I say that's not okay, that's not okay."
Lowry fired back, "You cursed me out as soon as I walked in! You said, 'Get the f**k out of my house.'"
Rivera explained how he kicked her out because she questioned his appearance.
"Because to me at 4:30 on a Sunday you should have your life together," Lowry screamed. "I'm not okay with everything you're doing because you don't do anything!"
Marroquin then got involved, as he yelled at Rivera, "Take care of your s**t dog, take care of your s**t."
When Rivera said, "Worry about your own f**king kid," Marroquin fired back, "Obviously I'm worrying about your child cause you don't do nothing!"
Although the fight was over, Marroquin continued to take jabs at his wife's ex by saying, "Just because you have another baby doesn't mean you neglect your son."
Rivera then blamed Lowry for the family feud.
"I've spent the past couples of months with Kail working on bettering our relationship and communication," he told his fiancé Vee Torres. "She sabotages everything."
Teen Mom 2 airs Mondays at 10/9c on MTV.