Exclusive
Joel Osteen Church Caught In Child Sex Abuse Probe!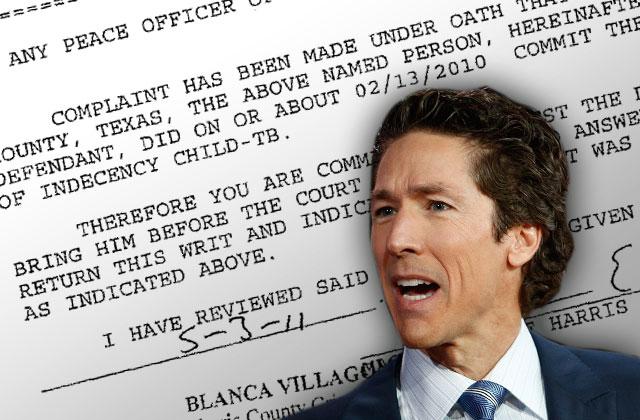 Joel Osteen and his Lakewood, Texas, megachurch continue to dominate the pop religion realm in America, with several bestselling books, a Sirius radio station, and arena events across the country. But do his legions of fans know what goes on behind closed church doors?
RadarOnline.com has learned that in 2010, Lakewood was at the center of a Child Protective Services investigation after a church volunteer was accused of "inappropriate" sexual conduct with a special needs child at the facility!
Article continues below advertisement
According to court documents obtained by Radar, Alvaro Daniel Guzman "was a volunteer in the special needs children's ministry at Lakewood," known as the Champions Club, in 2010.
On February 13, 2010, a fellow volunteer "allegedly witnessed him touching the child assigned to him in an inappropriate fashion." The woman relayed her claims to her superiors, the documents state, and they "advised her that she should contact Child Protective Services and report to them what she had witnessed."
Before long, "CPS began an investigation into the allegation," and on February 17, "Lakewood staff met with Guzman and advised him he would no longer be allowed to serve as a volunteer because an allegation of inappropriate touching had been made against him." On February 25, the documents state, Houston Police detectives "interviewed Lakewood staff regarding the alleged incident."
Article continues below advertisement
By May 5, 2011, the Harris County District Court issued an order to arrest Guzman, alleging that a "complaint has been made under oath" that he committed "the offense of indecency on a child" on February 13, 2010. He was charged, and released on $10,000 bail. By July 21, however, a grand jury "failed to find a bill of indictment against him," court documents state, and he was discharged.
But the legal drama was far from over. In February, 2012, Guzman sued Lakewood for $10 million, claiming that the church was negligent in that they did not "properly investigate" the claims against him, and "failed to properly secure video" from surveillance cameras that could have immediately cleared him of the baseless accusations.
As a result of those factors, he claimed, he had suffered "lost wages, damage to reputation," and "anxiety, pain, and illness."
What's more, Guzman even claimed in his complaint that "events similar" to his own accusation "had previously occurred" at Lakewood. However, he provided no evidence to support the claim.
And when Lakewood was asked by his attorney to "identify and describe in detail any previous incidents" similar to the one involving Guzman, they objected, claiming the request was "vague" and "overbroad." Asked whether "there ever have been any other child abuse accusations that took place within the church's facility," the church objected, claiming the question lacked "specificity" and was "vague and unclear." They insisted, however, that there were "none."
The case ended on December 14, 2012, when a judge granted a summary judgment in favor of Lakewood, claiming he had "received no evidence" from Guzman.