'Pathetic!' Donald Trump Wants Ted Cruz And John Kasich 'In Jail' For New Plan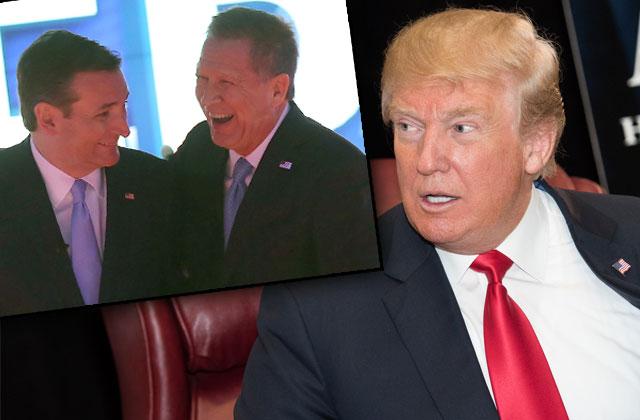 Article continues below advertisement
Cruz and Kasich announced on Sunday that they would clear paths for one another in the upcoming primaries in Oregon, New Mexico, and Indiana. The move signals their last-ditch effort to take down Trump, a move that the New York billionaire said he thinks is a sign of weakness.
Trump immediately lashed out at their attempt, tweeting that both candidates were "mathematically dead and totally desperate." On Monday, Trump followed up on his statement calling the duo "pathetic" for trying to gang up on him. "Actually I was happy, because it shows how weak they are, it shows how pathetic they are," he insisted to CNN.
Trump is expected to sweep the northeastern primaries on Tuesday, edging closer to the 1,237 delegates needed to clinch the Republican nomination. One of Trump's senior advisers, Barry Bennett, assured CNN that there is no guarantee that Kasich's supporters will vote for Cruz. "This is something that Washington doesn't understand about politics," Bennett said. "Nobody's supporters 100% go to anybody."