Charlie In The Crosshairs! Bombshell New Development In LAPD Felony Investigation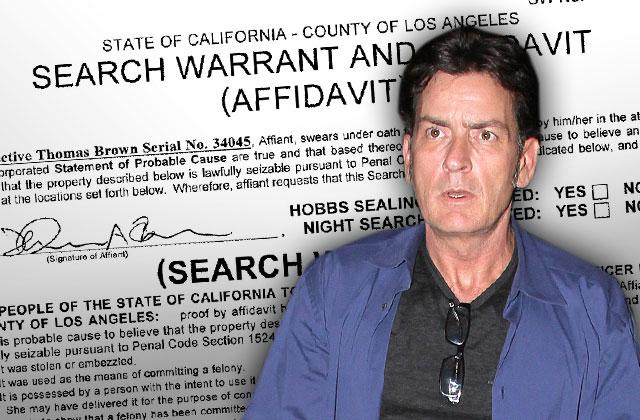 Charlie Sheen was blindsided when RadarOnline.com exclusively revealed Wednesday that the LAPD is pursuing a felony investigation against him. But although cops have served Radar a search warrant in the hopes of uncovering evidence to further that case, Radar has no intention of turning over documents or identifying sources in the matter.
Radar counsel said, "The search warrant is illegal and violates federal and state law prohibiting the use of search warrants against media companies who are reporting news and information."
Article continues below advertisement
According to California Penal Code sec. 1524(g), a search warrant may not be issued for materials protected by the California "shield law," such as unpublished audio recordings and source information. As Radar reported, cops specifically wanted access to a 35-minute audio tape that Radar reported featured Sheen making terrifying threats against his ex, Brett Rossi, aka Scottine Ross.
In addition, The Privacy Protection Act, 42 USC sec. 2000aa et seq., makes it unlawful to search or seize any materials "possessed by a person in connection with a purpose to disseminate information to the public."
Radar broke the story: On Tuesday LAPD detectives served Radar and The National ENQUIRER with a 12-page search warrant regarding a felony investigation against Sheen.
On March 31, Radar posted a world exclusive about an explosive audio tape that featured Sheen, 50, threatening Rossi's life and admitting he lied to a sex partner about his HIV status. Information about the tapes was provided by The ENQUIRER, which obtained them from a former lover of Sheen's.
The LAPD hopes to search the Radar and ENQUIRER offices in New York for "all recordings to include audio" report in Van Nuys, Calif, last week. On April 1, she was granted an emergency protection order, video, electronic communication, digital and electronic data pertaining to the articles" about the audio, as well as "all transcripts of the records" and more.
Story developing.