Exclusive
Britney's Drug Confession: Family Interventions & Sleeping In Parking Lots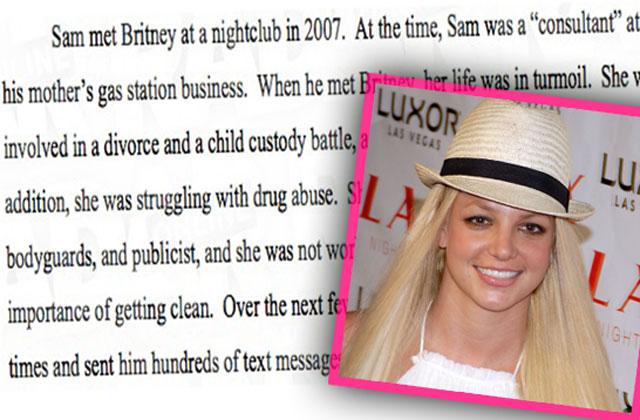 Fans knew something was terribly wrong with Britney Spears when she shaved her head, attacked a photographer with an umbrella, lost custody of her young children and was twice placed on a psychiatric hold.
But now, roughly nine years later, the now-stable pop icon and mother of two is coming clean about her dark days in a new court filing.
In California Court of Appeals documents obtained by RadarOnline.com, the 34-year-old's attorneys chronicled her chaotic life from 2007 to 2008 as they fought against her former manager Sam Lutfi's lawsuit.
Article continues below advertisement
READ THE SHOCKING COURT DOCUMENTS
When Spears met gas station worker Lufti in a nightclub, "her life was in turmoil," the lawyers wrote. In addition to a divorce, child custody battle and estrangement from family and business associates, they claimed, "she was struggling with drug abuse."
In her troubles, "Britney called Sam numerous times and sent him hundreds of text messages," the documents stated. The 41-year-old began to advise her on "almost every important decision in her life."
Lutfi "advised her on the importance of getting clean," the lawyers added, but Spears "continued to struggle with a drug problem."
After losing custody of her young sons Sean Preston, then 2, and Jayden James, then 1, on October 1, 2007, multi-millionaire Spears "spent the night in a parking lot."
The singer's parents Lynne and James attempted to stage an "invention," her team recalled, but Lutfi thwarted their efforts by spilling the secret to Spears and helping her escape her home undetected.
Article continues below advertisement
Unfortunately, Spears is still fighting against a lawsuit brought on by the bitter Lutfi, who claims the star broke their professional contract.
Her team is hoping to keep her away from Lutfi in her deposition next week.