Drug Bust & Felony Charges! The Dark Past Of Blac Chyna's BFF Exposed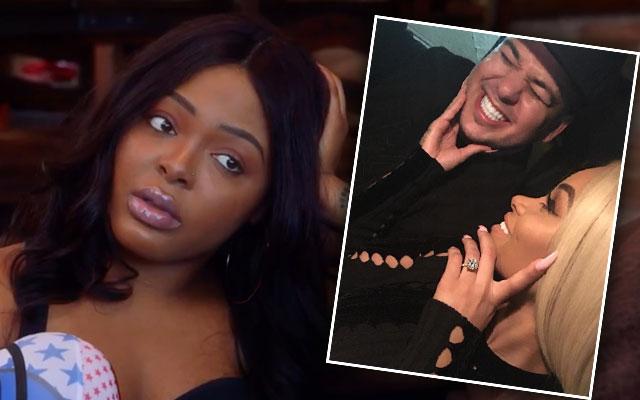 While Blac Chyna and Rob Kardashian are celebrating their recent engagement, Chyna's BFF, Charmeika "Paige" Addison, is dealing with the law, RadarOnline.com can exclusively reveal.
Addison's legal troubles began after she injured three people during a car crash last year, according to documents exclusively obtained by RadarOnline.com.
Although the car she was driving reportedly belonged to Blac Chyna, the 23-year-old initially fled the scene.
Article continues below advertisement
"On or about November 8, 2015 in the county of Los Angeles, the crime of hit and run driving resulting in injury to another person..." her criminal complaints states. "A Felony, was committed by Charmeika Lafay Addison, who was driving a vehicle involved in an accident resulting in injury to another person and failed to immediately stop and give his or her name and give his or her current residence address…"
The Boss Nails star was also charged with driving without a valid license and "reckless driving on a highway causing bodily injury."
While cops were initially unable to track the soon-to-be Kardashian's friend down, she eventually cooperated and showed up in court on March 2 and again on April 5, 2016.
Addison is scheduled to appear in court once more, on May 2 of this year.
This isn't the first time she's had a brush with the law. RadarOnline.com can also reveal that Blac's BFF was arrested in Miami in 2011 for possession of marijuana!
Article continues below advertisement
The then-18-year-old, who is originally from Miami, got busted while smoking pot with a group of two others on Dec. 6, according to the incident report obtained by RadarOnline.com.
Addison and her friends were spotted "smoking and passing a joint back and forth to each other," the document states.
"UC detectives gave description and location and ordered a surveillance based takedown of all arrestees that were sitting in the front porch."
The scene got more dramatic when one of her friends tried to escape the arrest altogether.
The pal "took flight on foot and tossed the marijuana joint (roach) from his right hand …He fled on foot into the residence and exited though the west side, dropping another marijuana joint (unlit) to the ground," the document reads.
Eventually he was confronted by police and was discovered to have a gun and holster and an open warrant for driving without a license. He then surrendered the weapon and was arrested.
Addison was arrested, charged with possession and had a bond set for $3000. The case was closed on May 23, 2012, and she was fined $153.48.
Addison did not respond to RadarOnline.com's request for comment.
As RadarOnline.com previously reported, Kardashian and Chyna announced their engagement on social media on Tuesday. Should Blac's BFF be invited to the wedding? Let us know in the comments!