#DRAMA! Kim & Amber's Secret Confrontation Over Emoji Line Exposed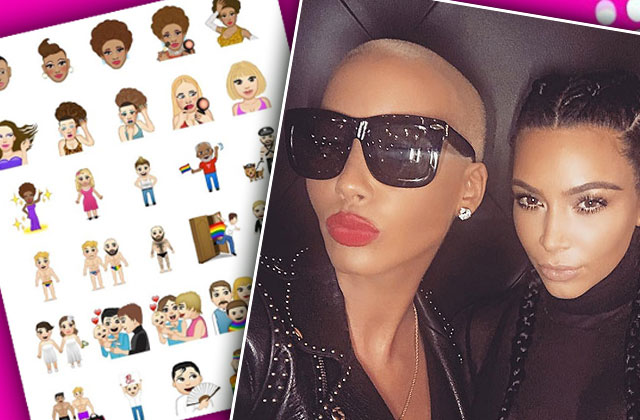 Amber Rose launched a line of emoticons, MUVAMOJI, last week and it is already a runaway success. But although some critics have claimed she ripped off Kim Kardashian's hit emoji line, RadarOnline.com has exclusively learned that the former bald-headed stripper actually got Kardashian's blessing — and her help!
As fans know, Kardashian, 35 – who is married to Rose's sloppy seconds, Kanye West – broke the internet AND the Apple Store recently with a line of specialized Kardashian emoticons appropriately called KIMOJI!
Article continues below advertisement
However, according to a source, "Kim actually helped Amber Rose launch her own line, MUVAMOJI, because she wanted to have control over the situation. She wanted to make certain that Amber did not include anything in her line that would hurt the Kardashian brand or her husband's image."
As previously reported, Rose hasn't hesitated to bash West in the past. Just a few months ago, she and Kardashian's rapper husband got into a heated Twitter war that ended when Rose tweeted that she had put her fingers into West's butt while the two were together. But, she and Kardashian made up last month.
MORE ON:
Keeping Up With the Kardashians
"Kim and Amber do speak now and Kanye absolutely hates it," the source told Radar.
"But Kim knows that Amber has way too much power to cut her loose. She knows too much dirt on them, so Kim offered Amber to help her launch this as a way to prevent any further damage from happening."
"They are both making millions off of emojis now, so the bad blood between them is obviously over."
Do you think that Kim Kardashian was smart for helping Amber Rose launch MovaMoji? Sound off in the comments below.