'Top Chef' Winner Arrested For Assaulting Girlfriend In Drug-Fueled Rage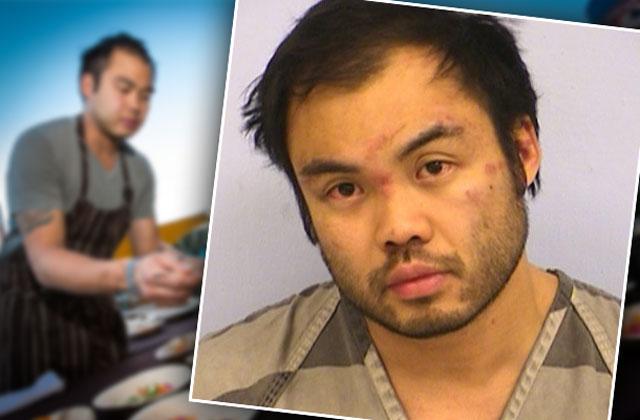 Paul Qui, the 2012 Top Chef champion, was arrested and charged with assaulting his girlfriend this weekend, RadarOnline.com has learned.
According to Austin, Texas police, Qui was taken into custody on misdemeanor charges of unlawful restraint and of assault causing injury-family violence.
The famed chef's friend called police on Saturday, citing that the couple had been fighting in their E. 5th St. apartment. Responding officers reported yelling, screaming and loud "banging" noises coming from inside the unit, an official affidavit revealed.
Article continues below advertisement
Qui was reportedly covered in blood when he answered the door to the apartment, dressed in a tank top and a pair of boxers. His girlfriend was found crying hysterically on a couch, clutching her young son.
Authorities noted broken glass and blood smeared throughout the unit. Qui's girlfriend complained of pain in her left knee, hip and arm. She was also sporting noticeable swelling on her jaw, one officer said.
"I could see a fresh cut on her right forearm and bruising on her upper arms from Qui grabbing on her and throwing her around the apartment," the affidavit read.
The traumatized woman testified that Qui woke her up after coming home with his friends from a night of "Xanax, cocaine, marijuana and booze," the police report read.
She claimed that she had a couple of drinks with the group before Qui began to accuse his friends of flirting with her and propositioning her for group sex. According to the affidavit, she said Qui threw his friends out of the apartment but wouldn't let her leave with her son.
Article continues below advertisement
"This situation made me realize that I need to take more time for my health and myself," Qui continued in the official statement. "I will be checking myself into a treatment facility in the coming days and I am appreciative of the support of my family, friends and partners. Thank you for respecting my privacy."
His restaurant, Qui, was closed Monday night but is set to resume regular hours again on Tuesday.