Presidential Election 2016
Leaked Footage: Ted Cruz Supports 'Death Penalty For Homosexuals'?!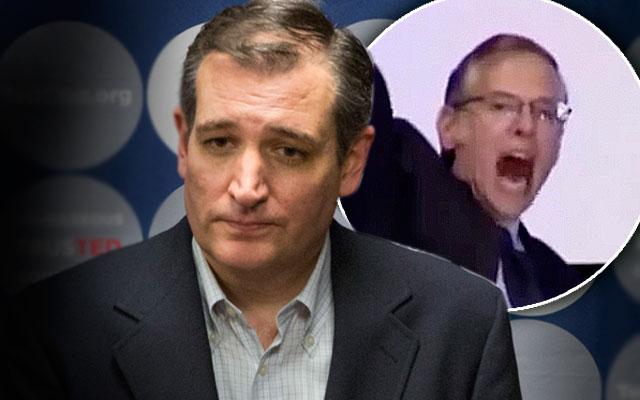 Ted Cruz has tried to brush off any criticism suggesting he is anti-gay. But will he be able to explain this away? The presidential candidate is under fire for a bombshell new video that suggests he supports a pastor who has called for the execution of homosexuals!
In a recently unearthed video, Pastor Kevin Swanson is seen speaking at the National Religious Liberties Conference last November. The pastor fervently quotes the Bible to support his condemnation of gay people in the video clip.
Article continues below advertisement
"Yes, Leviticus 20:13 calls for the death penalty for homosexuals," Swanson says in the chilling clip. "Yes, Romans Chapter 1 verse 32 the Apostle Paul does says that homosexuals are worthy of death. His words not mine! And I am not ashamed of the Gospel of Jesus Christ! And I am not ashamed of the truth of the word of God. And I am willing to go to jail!"
Swanson then introduces Cruz, who walks out unfazed despite the disturbing rant, smiling and waving to the applauding crowd.
Cruz has not sought to hide his association with the pastor, nor has his father, Rafael Cruz, who has said he believes same-sex marriage is a government conspiracy.
Watch the shocking to see the passionate pastor condemn homosexuals and proceed to rant about "gaping sores" and how people are carving "happy faces" on them.