Ailing Sumner Redstone Had Women 'On Retainer' For Sex Obsession, Source Claims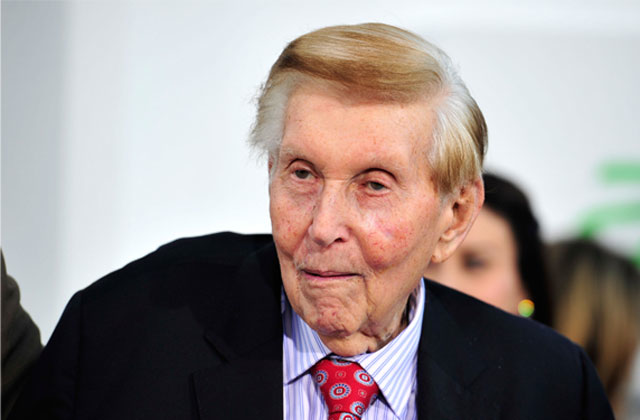 Ailing Viacom mogul Sumner Redstone paid a $5,000 retainer per month to keep a beautiful woman on-call, a scandalous Vanity Fair story claims.
Despite medical advisement to slow down his apparent libido, the 92-year-old's ex-girlfriend and former caretaker, Manuela Herzer, said Redstone became "obsessive about wanting to have sex" in recent years.
"In 1999, he had gone on a dating spree, meeting with a slew of beautiful women, often with Herzer's help…one of those women remained on retainer with Redstone, getting $5,000 a month at the gate to Beverly Park whether she saw him or not," the Vanity Fair article, written by William D. Cohan, alleged.
Article continues below advertisement
However, due to his deteriorating health, Redstone's ability to physically participate in sexual activities seemed utterly impossible.
After a termite problem in his own home, Redstone spent some months at fellow billionaire Larry Ellison's Malibu house, who pointed out: "He can't have sex, so it's all in his head, right? How can a guy with a feeding tube who can't move have sex? There's no sex."
VF's scathing piece also claimed that a sex tape, featuring a "butt naked" and nearly "comatose" Redstone watching two women kiss, is rumored to exist.
An unidentified source who had heard about the tape said visualizing its content "ruined my sex life for a couple of weeks."
Herzer, who filed a lawsuit concerning Redstone last November, also claimed that he lost interest in the business of CBS and Viacom, and often experienced "spontaneous crying spells."
As reported, Redstone recently resigned as executive chairman for both companies.
Meanwhile, the legal battle over Redstone's health care will go to trial on May 6, with daughter Shari Redstone and Viacom Executive Chairman Philippe Dauman at war over the mogul's $37.1 billion in media assets.