Gizelle Bryant Confesses That Her Costar Karen Huger 'May Hate Me'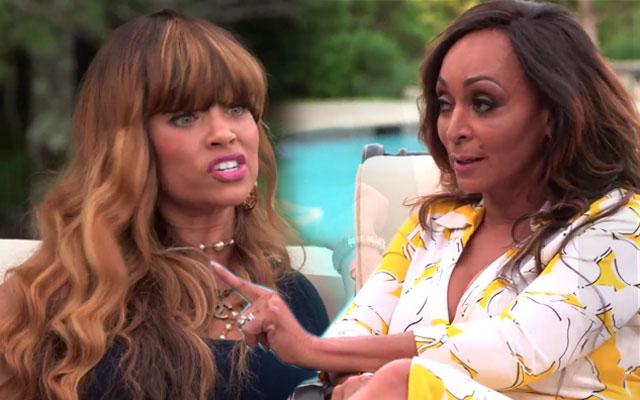 During the series premiere of Real Housewives of Potomac, Karen Huger got into an argument with Gizelle Bryant after she felt that Bryant was trying to steal the spotlight at her party.
The two ended up clashing about the rules of etiquette and seemed to start a season-long feud.
But when it comes to Huger, Bryant now says that she likes her costar. Unfortunately, she isn't sure if Huger feels the same way about her.
Article continues below advertisement
"She may hate me, but I love her," Bryant said during an interview with OKMagazine.com.
They two women have big personalities, so this can cause tension sometimes.
"We are two extremely strong women and know what we want," Bryant admitted. "So we do clash."
As Radar previously reported, during the season premiere, Huger, 52, gave Bryant, 45, a framed set of etiquette rules.
But now, Bryant insists that the two of them can work out their differences in a mature manner.
"I feel like we are adult enough, and as the season plays out, I think you'll see that we are adult enough that we are able to handle our differences like ladies with class," she said.
She goes as far as to coin Huger one of her gal pals.
"I consider her my friend," she said. "Now, I don't know if she would the same thing, but I consider Karen to be a friend absolutely."
"I respect Karen's space and I think that she respects mine," Bryant continued. "When it's time for her to shine, I want her to shine. We give each other our lanes and we are happy in each other's lanes.
Article continues below advertisement
In the season premiere, Bryant also had a hard time with her "friend" Charrisse Jackson Jordan, 50, after she showed up at her house to help the NBA wife prep for a party.
Bryant dug through the woman's kitchen drawers and then was called out by Jordan as rude.
Looking back on the situation, Bryant said, "Charrisse is my friend and we've known each other for a while (I've actually known her longer than I've known Karen). However, Charrisse I believe was just going through a lot as it relates to her personal life, and I think I was her punching bag. I didn't take it personally."
In the future, it sounds like fans can expect for Bryant to get involved in some drama with Katie Rost, 36.
"Katie and I just didn't really get to know each other that well," she said. "We didn't spend that much time together, and so the opinions that I have of her are very limited."
But Bryant does have a good relationship with Robyn Dixon, 36.
"Robyn, out of all the girls, I am closest with," she said. "She and I have been friends for years. Robyn's a beautiful person inside and out, and I'm happy that she and I were on the show together because she's a real true girlfriend of mine."
She also learned to like Ashley Darby, 27.
"Ashley is a lot to take in all at one time," Bryant said. "She is a little spitfire, but I do like Ashley."
"Once you get past her kind of abrasiveness, she's funny," she added. "And she's energetic and I like spending time with her."