'RHONJ' Drama! Cast 'Mad' At Teresa For Ruining Cast Trip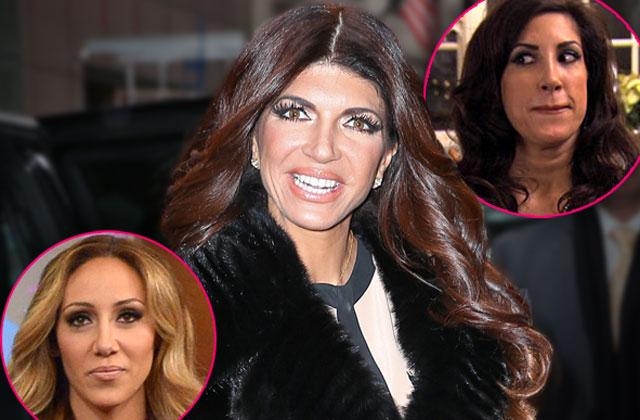 Teresa Giudice, 43, has to say goodbye to her husband Joe Giudice, 43, in a matter of days when he turns himself in to start his prison sentence, but RadarOnline.com has exclusively learned that hasn't stopped her from heading off on a cast trip.
"They cast is headed to Vermont," a source told Radar. "They are leaving today and will be there for about a week."
A second insider confirmed that the cast will be returning home on Friday.
Article continues below advertisement
While most people would be excited about a getaway, unfortunately the stars of the hit Bravo show are less than thrilled to be packing up their bags for Vermont.
"No one is happy about the trip," the insider said. "Everyone is miserable and no one wanted to go to Vermont."
"They wanted to go somewhere exotic and are mad that they aren't," the first source said. "They wanted to go out of the country to somewhere like Jamaica or Morocco, like other casts have in the past."
But because of Teresa's post-prison travel restrictions, the women got stuck in the tri-state area.
"Because of Teresa, they can't go somewhere nice," the source explained. "So they are upset by the situation they have been put it in. Vermont is cold and not the warm, sunny destination they had hoped for."
According to the sources, the cast's disappoint is only the tipping point of the problems brewing among the women.
Article continues below advertisement
"There is a lot of drama," the source said. "There has been some explosive stuff going on."
"Melissa Gorga and Jacqueline Laurita are now fighting," the insider added.
As Radar previously reported, Laurita, 45, got into a major fight with Giudice in December.
But according to the insider, the two women have settled their differences.
"Teresa and Jacqueline have made up already," the insider said.
In all, Giudice has tried to tone down her on-screen wars.
"Teresa isn't trying to fight with anyone right now," the insider said. "She's getting really tired of all the drama."
This cast getaway makes the second one included in the filming for the upcoming season.
In February — as Radar reported — the women got to go on a pricey spa weekend excursion.