Joe Giudice Breaks Down Over Possible Deportation After Prison Sentence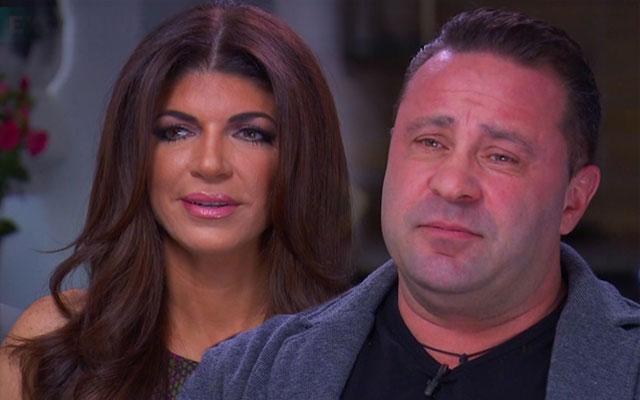 In a matter of weeks, Joe Giudice will begin his 41-month prison sentence — but the nightmare may not end there .
In an exclusive sit-down with Entertainment Tonight, the Real Housewives of New Jersey star broke down in tears over facing potential deportation once his sentence is completed.
"Anything can happen, you know? There is nothing in life that is certain," the 43-year-old told ET's Jennifer Peros at the Renwick Hotel in New York City. "We will deal with that when I get out."
Article continues below advertisement
"We're just taking it day by day," wife Teresa, also 43, chimed in, accompanying her hubby for the emotional interview. The Giudice matriarch recently completed her own prison sentence in December, after spending 11 months behind bars in the Federal Correctional Institution in Danbury, Connecticut.
As Radar previously reported, the couple was originally convicted of bankruptcy fraud in October 2014, serving their sentences separately in order to care for their four daughters.
"They go on computers, they know everything," Joe commented on his children's knowledge of his lengthy jail sentence. "I mean, my daughter Milania tells me, 'You're going away for a lot more months than mommy.'"
Though serving time will be a difficult change after months of playing single-dad to the couple's girls, Joe admitted that the experience could also help jump-start his sobriety again.
"I haven't stopped drinking in I don't know how long, so I could definitely use it just for that, you know?" he admitted. "It's probably going to be a good thing for me, health wise anyway."
As for Teresa, the RHONJ star confessed that she will sorely miss spending evenings with her husband.
"I'm going to miss sleeping with him at night and cuddling with him," she shared, adding playfully, "I'm going to miss the passion, and I can't say any more than that."
Teresa and Joe's exclusive airs on Entertainment Tonight Wednesday, March 2.