Boozy Kris Jenner Acts Krazy On Napa Wine Trip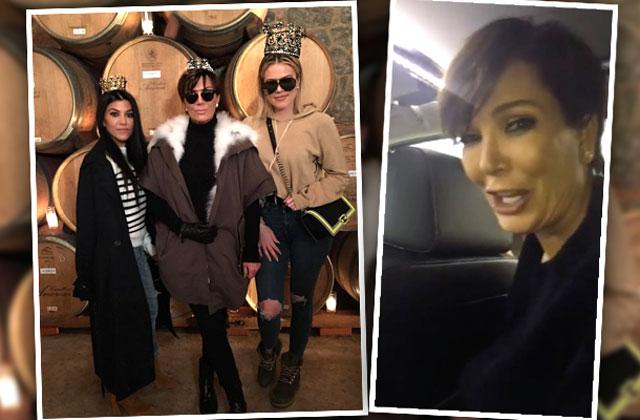 The Kardashian girls just want to have fun — especially momager Kris Jenner!
The 60-year-old let her hair down on Monday during a wine tasting trip to Napa with daughters Kourtney and Khloe Kardashian.
Lucky for us, Kourtney documented their boozy vacay in a number of Snapchat videos.
In the first clip, the trio can't stop laughing as they sip from their wine glasses to Beyoncé's "Drunk In Love."
Things took a turn for the koo-koo later on, as Kris was captured babbling about a "walky-talky" in a nonsensical snap.
Article continues below advertisement
Kourtney, 36, dished that her mother perfectly encapsulated "squad goals" in a later video.
The three gals may have grown sick of each other by the end of their trip, however, as 31-year-old Khloe described a more segregated schedule for next time.
"We're going to share a plane, but not see each other when we get here and separate and have like a week vacation," she laughed.
While Kris may agree, she can't seem to use her words at all anymore.
Interestingly, daughter Kim was absent for the trip. Could she be freezing out Kris? As Radar previously reported, the reality star has been suspicious of her momager mismanaging her money in recent weeks!
What do you think of their Napa getaway? Let us know in the comments below!