Hugs & Tears! Teresa's Last Date With Joe Before Prison Check-in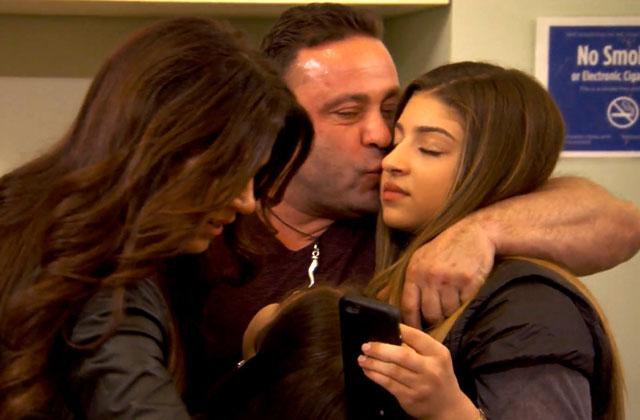 It has been an emotional few days for Teresa Giudice's family as she said goodbye to her husband Joe, who checked into prison on Wednesday.
But RadarOnline.com has learned Teresa and Joe made a last ditch effort to do one final outing with their four daughters—Gia, Gabriella, Audriana, and Milania—before the 43-year-old reality star turned himself over to custody at the Federal Correctional Institution in Fort Dix, New Jersey.
Article continues below advertisement
In a video released by Bravo, the family headed to Magnolia bakery.
Joe and Teresa, 43, tightly hugged onto their girls as the patriarch had tears rolling down his cheeks.
As Radar previously reported, Joe entered the federal prison system at 12:00 pm ET.
"His brother, his sister and several other family members of the Giudice family, as well as myself, were present when he turned himself into the prison, including Teresa," Teresa's attorney and family friend James J. Leonard Jr. said in a statement to Radar. "It was obviously a very emotional day, but this is a strong family with a tremendous support system and they will get through this, just as they did when Teresa was away."
Sources told Radar that Joe waited to leave his family home this morning until after their daughters headed off to school.
He is expected to spend 41-months behind bars for fraud charges.
But according to NBCPhiladelphia.com , Joe's attorney Miles Feinstein said that the reality star could get off for good behavior after 35 months.
In recent days, the Giudice family has been sharing numerous loving shots of the clan on social media.