Erin Andrews Sobs On Stand During Trial: 'I'm Naked All Over The Internet!'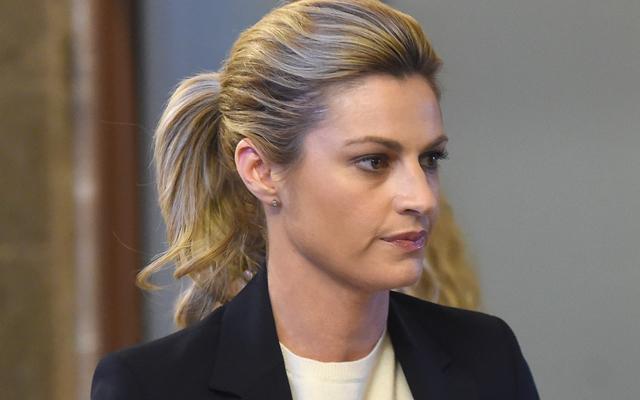 Erin Andrews broke down in tears on the stand today describing when she found out that a surreptitiously filmed video of her nude had leaked on the internet.
The 37-year-old former ESPN sportscaster sobbed as she recalled hearing from a friend that the peephole footage taken at the Marriot in Nashville was on the web.
"I said, 'No, there's not, I don't do that!' " Andrews said.
"I saw it for 2 seconds, and I thought, 'Oh, my God,' and I shut it down, and I said I have to call you back. And I called my parents. I was just screaming."
Article continues below advertisement
Andrews told the jury about the hysterical phone call she made to her father revealing the humiliating news.
"And I said I was naked all over the Internet. I didn't know where it was. I said, 'Dad! I'm naked all over the Internet. I don't know what it is! I don't know where I am!' I even got a call from the hotel asking if everything was was OK because I was screaming so loud."
Andrews is suing the hotel where the video was shot for $75 million. She claims they failed to protect her privacy from a stalker who obtained information about which room she was staying in, then booked the room next to her and filmed her naked through the peephole.
"My biggest fear was that the longer it was on the Internet, it was going to blow up and blow up and blow up and go viral and get page views and be really bad," she said as she cried on the witness stand.
"I just kept saying, 'We gotta get it down. We gotta get it down.' And we can't get it down! And we're never going to get it off."
Andrews also testified that she was accused of taking advantage of the video.
"Probably, for like three months, everyone thought it was a publicity stunt," she admitted. "That ripped me apart."
But Andrews said she wouldn't have stayed at the hotel if she knew someone had planned to be in the room next to her.
"Never,'' she said. "I would have called the police.''
Stay with Radar for updates to the story.