Erika Girardi Blames Kathryn Edwards For Ruining Future Friendship With Lisa Vanderpump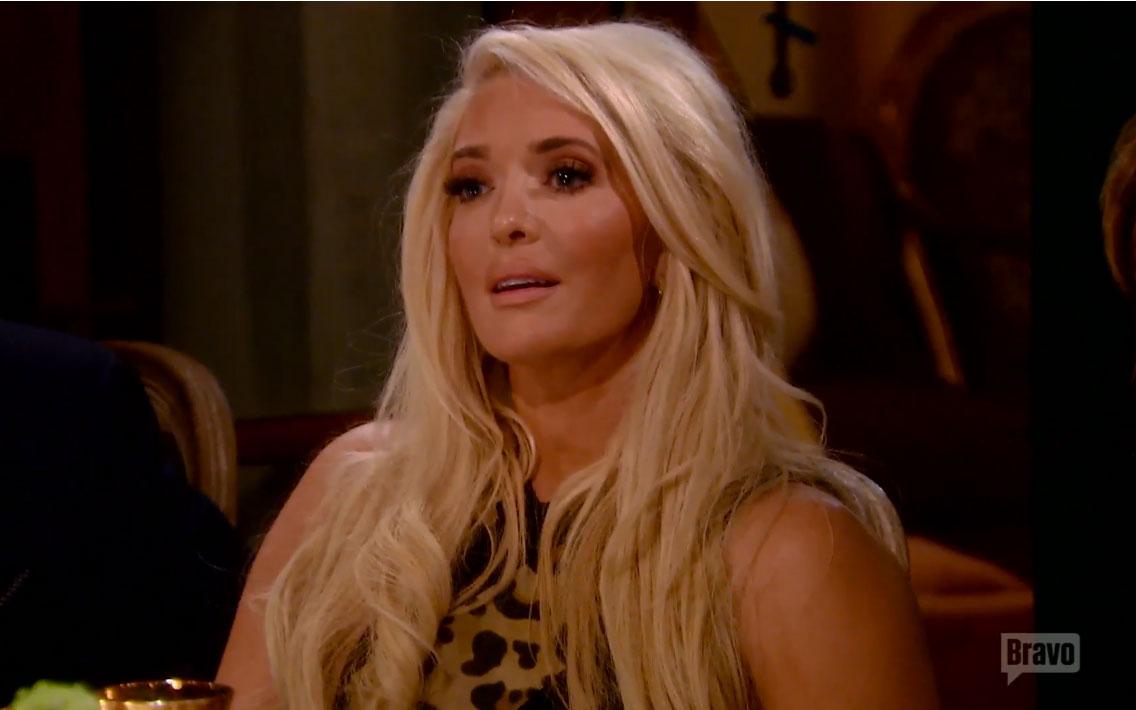 The ladies of The Real Housewives of Beverly Hills can add another disastrous dinner to the books. This one was hosted by Erika Girardi at her Pasadena, California home so the women could meet her mysteriously absent husband, Tom Girardi.
Lisa Rinna, Kathryn Edwards, and Lisa Vandepump all pulled up in their limos ready for a perfectly catered meal while Yolanda Foster canceled last minute.
Kathryn and Erika previously had friction about the model going behind Erika's back. Kathryn shockingly told Vanderpump that Erika warned her she "spins a web" and is "manipulative."
Article continues below advertisement
Kathryn argued she didn't owe Erika any loyalty even though Kathryn claimed she wanted to become friends with the entertainer. "Perhaps we'll be best friends if you give me some time … What's the rush?" asked Erika.
Kathryn rolled her eyes. "Throw me a frickin' bone."
Erika was disgusted by Kathryn's "loud" and "aggressive" behavior. She even told Tom to "shush" while she was speaking— an absolute insult in someone else's home according to Erika!
"I can't believe the words that were coming out of this woman's mouth," Erika explained in her confessional. "This is really rude. I would never come to someone's home, meet someone's husband for the first time and act like a f*ckin ass."
Kathryn started yelling across the table and then finally admitted she gossiped because she "wanted to get a reaction" from "Ice Queen" Erika who blamed Kathryn for ruining any potential friendship with Vanderpump.
Article continues below advertisement
After that explosive meal, Rinna and Eileen Davidson met for a walk on the beach to chat about the unfortunate dinner.
Rinna dropped the bomb that she believed Lisa and Kyle Richards were not so innocent in the Munchausen's syndrome conversation. She claimed the other women were sending pictures back and forth to each other, giggling, and talking. Vanderpump was even the one who encouraged Rinna to talk to Yolanda about the claims!
"Lisa doesn't do her own work. That's a manipulation right there. I get it now." Rinna said. "I've allowed myself to be used as a pawn."
Rinna told Eileen she has trust issues with everyone because Yolanda had lunch with ex-Housewives Brandi Glanville and Kim Richards before canceling on Erika's dinner.
Meanwhile, Kyle played the role of the apologizing friend when she visited Yolanda and they discussed the infamous email. She felt attacked at the lunch by Kyle and justified CC'ing all the ladies on the email so they could read her exact words instead of gossiping and misinterpreting them. Touché.
On a lighter note, Kyle and her husband, Mauricio, banded the ladies together to help paint houses for his charity.
Erika was still fuming about the dinner. "I have a hard time having a relationship with that woman Vanderpump because of you," she told Kathryn. She scolded Kathryn for her obnoxious behavior and even pointed a finger in her face.
The Real Housewives of Beverly Hills airs every Tuesday at 9pm ET on Bravo.