'I'm Not Fighting With You!' Bristol Palin Rants About Single Mom Life In Leaked Text To Ex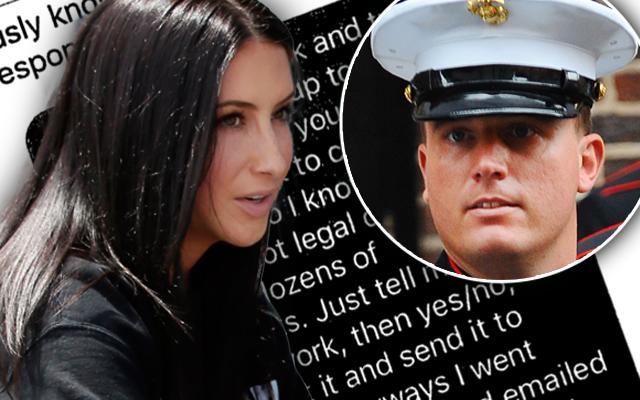 Bristol Palin's custody war is getting nasty! Her bitter texts with her ex, Dakota Meyer, have been revealed in new court documents and RadarOnline.com has all the details.
As Radar has reported, Palin, 25, and Meyer are locked in a nasty custody battle over their daughter Sailor, born on December 23. The court recently set an interim order allowing Meyer joint custody and visits in Alaska, but Palin hit back with her own motion asking them to reconsider.
Article continues below advertisement
Right out of the gate, Palin's attorneys state, "The visitation schedule proposed by Meyer is different from the schedule previously agreed to by the parties, and the first time Ms. Palin saw this proposed schedule is when" she saw Meyer had filed it with the court.
Meyer's proposed plan to visit his daughter places "undue burden and hardship on Ms. Palin and her family," the documents claim. He asked to meet her in Anchorage at 7:30 a.m. on the days he has his daughter, but Palin complained she'd have to "leave her home in Wasilla by 6:00 a.m." to get there. She also claimed that his proposed drop-off time of 6 p.m. was "unreasonably late."
One issue complicating matters, Palin claims, is that her job is very unpredictable. Palin says she works beginning at 9 am., but "Ms. Palin may not work at all on days when her employer cancels or does not have appointments for the day. Changes to Ms. Palin's work schedule may occur as late as that morning."
In addition, she noted that Meyers's proposed schedule would mean she'd spend Mother's Day without Sailor.
Article continues below advertisement
Palin submitted to the court text message between her and Meyer that show just how tense their relationship has become because of these custody issues.
In the messages, obtained by Radar, she repeatedly badgers Meyer to settle visitation dates with her, as he refers her to his attorney and the court.
"I'm not fighting with you," Palin insists, but can't totally restrain her emotions. Told that Meyer filed a proposed schedule with the court, she resounded "That's news to me…Why can't you send me the dates directly."
"I am busy with work and two kids, I'm not fully up to date on emails," she rants. "Like I told you months ago, it's easiest to connect with me directly, so I know what's going on. Not legal documents that have tons of attachments. … I have to get up everyday at 4:30."