See Inside The Luxurious Oceanfront Oasis That Joanna Krupa & Other Celebs Love
Praised as 'The Most Luxurious New Development In The World,' OK Magazine caught up with Million Dollar Listing star Chris Leavitt, to find out why celebrities, fashion designers and jet setters from around the world are flocking to his swanky new property.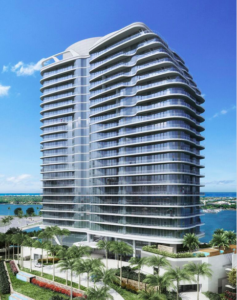 OK: Joanna Krupa recently told us that she fell in love with a unit at The Bristol, did you show her the unit?
CL: I did! Joanna just called me and relayed said she spoke with you otherwise I'd never tell! She fell in love with a spectacular waterfront unit in the 7 million dollar range.
Article continues below advertisement
OK: Why is this property so special?
CL: The Bristol sets the bar for the highest standard in luxury living, and has emerged as one of the most extraordinary properties in the world. It's rare location on the water, overlooking fabled Palm Beach Island, is the last undeveloped waterfront parcel in the area. In addition, we will offer chauffeured luxury car service, private events that will feature one of a kind experiences for our residents such as curated winemakers dinners prepared by famed sommeliers, and celebrity chefs, an in-house celebrity personal trainer at our state of the art gym, and pampering treatments at our luxury spa. The Bristol ushers in a new era of luxury living that is noting less than awe-inspiring.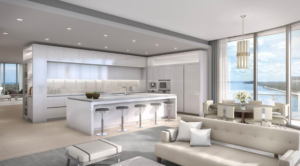 OK: I understand that security will be tight and The Bristol will not be open to the public. Can you give us an insiders perspective about what life will be like when one passes through the pearly gates.
CL: I like that, The Bristol is certainly heaven on earth. Our residents range from CEO's, royalty, celebrities, and dignitaries, and their safety and security is our main concern. Our highly trained and accomplished security detail will ensure that our residents privacy is never breached. Paparazzi is banned from the property, and we have a no camera policy in the common areas. The minute our residents walk through the front doors, they will feel safe as they are immersed into a world of unparalleled luxury, a calming oasis where they can leave their worries behind, and their dreams can become a reality.
Article continues below advertisement
OK: What else will we will find inside?
CL: The interiors are designed by AMIR KHAMNEIPUR, one of the most in-demand designers in the luxury space. The idea was to inspire a peaceful, calm and balanced, oasis. Residents will feel like they've stepped into the finest 5 star resort while their every whim is catered to by our 5 star staff. The goal is to do whatever it takes to make our residents lives easier. As you walk around the luxurious common areas, you will find rare original works of art displayed throughout the premises on a rotating basis, and world renowned artists will indeed join residents for honorary exhibits, and intimate discussions.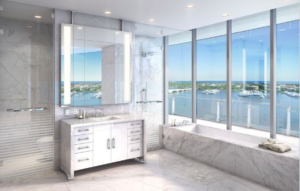 OK: We heard that 4 of the 6 Penthouses have already sold, Can you reveal if any of those buyers are famous?
CL: I can say that they are well known and leave it at that. Again, we highly respect our residents privacy and due to security protocols we will never disclose the names of our residents.
OK: What has turned Palm Beach into such a hot spot?
CL: Palm Beach has always been a hotspot, it is one of the most beautiful cities in the world, a global city unmatched in its beauty and elegance. Palm Beach Island defines luxury, style, class, and grace. Some of the most successful and iconic people in the world live here, and philanthropy is a big part of the Palm Beach culture.
OK: Last question, Donald Trump famously lives in Palm Beach at Mar-a-Lago. Have you ever been to Mar-a-lago?
CL: Yes. Mar-a-lago is an extraordinary property that reminds me of a gilded age mansion. I've been to many charity events at Mar-a-lago through the years and the Trump family has raised well over one hundred million dollars for charity. The Trumps have always been very philanthropic.