Rob Kardashian Declares Himself An Orphan In Shocking Instagram Post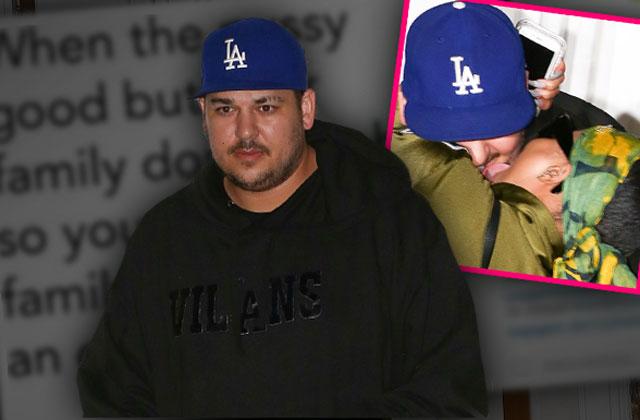 Rob Kardashian wants everyone to know how much he loves Blac Chyna — even if it means losing his disapproving family in the process.
The 28-year-old took to Instagram on Tuesday, sharing a quote that seemed to ring true for him, much to the Kardashian klan's obvious chagrin.
As RadarOnline.com previously reported, Blac Chyna is the baby mama of rapper Tyga, who has been dating Rob's half-sister Kylie Jenner for quite some time — awkward!
Article continues below advertisement
Yikes Rob, tell us how you really feel! There may be no stopping him now, despite efforts from the Kardashian-Jenner siblings.
Just last week, closest sister Khloé Kardashian posted a flashback photo with Rob to Instagram, saying: "It's simple..... I miss you."
Meanwhile, things seem to be going well for the hot-and-heavy couple, as Blac Chyna sported a suspicious diamond ring on her left hand while on a girls-only trip to Trindad.
"Rob has fallen hard for Blac Chyna," a source recently told PEOPLE. "She makes him super happy and this is the first time he's felt so optimistic about life in years. She helps keep Rob in check with his health and makes sure he is abiding by his diet and exercising. He feels there is strong potential for this relationship to go a long way, but for now, they are very content and complement each other really well."