Huh? Porn Star Wants To Withdraw Sex Assault Lawsuit Against Josh Duggar— But He Won't Let Her!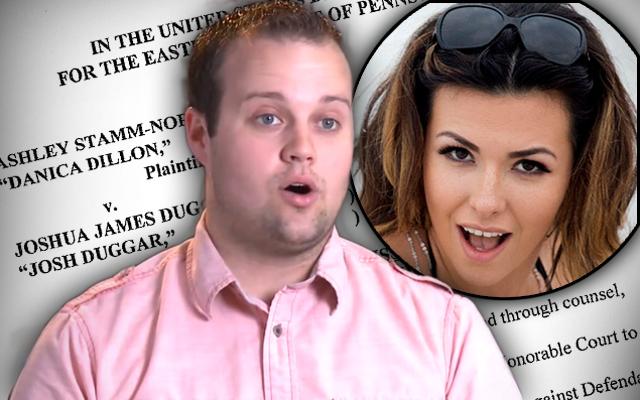 In December, Josh Duggar unsuccessfully attempted to get a porn star's sex assault lawsuit thrown out of court. Now, Danica Dillon is trying to withdraw her case— but the disgraced reality star won't allow it!
According to U.S. District Court documents obtained by RadarOnline.com, Dillon, otherwise known by legal name Ashley Stamm-Northup, requested permission from the judge to voluntarily withdraw her case without prejudice, meaning she would be able to file the lawsuit again in the future.
Article continues below advertisement
The 29-year-old adult film actress claimed she previously tried to get Duggar to agree to toss the case without prejudice, but he refused— and had an over-the-top demand!
"Defendant will agree to the dismissal of the case with prejudice only if Plaintiff publishes a statement on all her social media accounts, to remain forever, that the allegations in her complaint are lies, and in addition, Plaintiff must pay Defendant's attorney's fees and costs to date," Dillon's attorney wrote in the February 1 papers.
READ THE SHOCKING COURT PAPERS
But don't expect the pin-up girl to issue any apologies.
"Plaintiff will not agree to a retraction nor will she agree to withdraw her complaint with prejudice," her lawyer continued.
She also accused the Christian father of four, 27, of leaking stories in his favor to the media.
As RadarOnline.com reported, Dillon accused Duggar of choking and spitting in her face during two paid sex sessions last year, just before the married "family values" activist confessed to molesting five minor females, cheating on his wife, Anna, 28, and harboring a secret porn addiction.