Exclusive
See You In Court! Jenelle's Ex Threatens Massive Custody Fight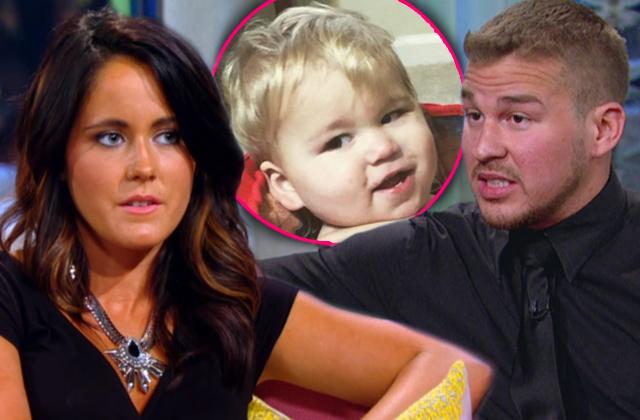 Jenelle Evans and her former fiancé, Nathan Griffith, have been at odds ever since their bitter breakup. She just accused him of stealing her car, and he has a warrant out for his arrest. But RadarOnline.com has learned that tensions between the pair have exploded to an entirely new level — all over their son, Kaiser!
Multiple sources told Radar that following Griffith's most recent visitation with their one-year-old son, the two exes got into a heated battle over custody that ended with Griffith threatening to take Evans to court.
Article continues below advertisement
As Radar previously reported, the two have been going at it with Griffith claiming that Evans won't let him visit Kai, and Evans setting in place a strict set of rules for Griffith to follow if he wishes to spend time with their son.
According to a source, Griffith finally got to visit baby Kai on Dec. 28, but it was under the supervision of Evans' boyfriend David Eason.
"David was there the whole time," the source said.
The source also revealed that this is the last time Griffith, 27, was able to spent time with the little boy.
Since then, he's even been butting heads with her new man over text.
"Nathan texted David some crazy stuff on Jan. 2, and they got into an argument," the insider told Radar.
"Nathan asked what Jenelle and David are doing about the car since he pays for it," the insider continued. "It's Jenelle and Nathan's car that they have always had. Jenelle lets David drive the car and Nathan knows Jenelle is handing the car in after she gets it fixed. Jenelle discussed all of this with him."
Article continues below advertisement
The conversation continued into Evans and Eason questioning Griffith if he had purchased all the necessary items he needed to care for their son during his visits.
"Nathan just started an argument," the insider explained. "After, Jenelle and David asked for pics so that they know that Kai has all the proper necessities and then he could see Kai. They wanted to see proof of a car seat, high chair, crib at his house, clothes and more."
According to the insider, Griffith said he would send photos, but never did.
"Nathan said, 'I will' send the pics," the insider said. "Then he never sent them the pics."
The fight then escalated into Griffith slamming Evans and her boyfriend.
"Nathan then went on saying there were certain morality issues that he was concerned about with Jenelle and David," the insider claimed.
After that, the argument concluded.
"The conversation ended with Nathan saying that he was taking Jenelle to court," the insider said. "Jenelle hasn't spoken to him since."
A source close to Griffith claimed that he and Eason have also exchanged nasty texts over Evans' pending court case involving her fight last year with his new girlfriend, Jessica Henry.
Stay tuned to Radar for updates on this story.