Jenelle Gets A New Ride In Midst Of Health Crisis & Ex's Looming Arrest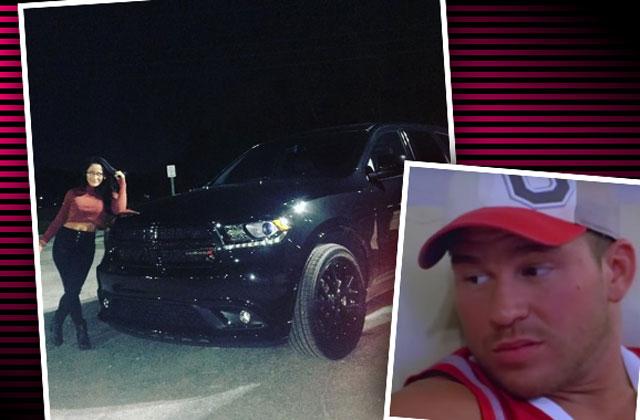 Jenelle Evans, 24, accused her ex-fiance and baby daddy Nathan Griffith, 27 of stealing his car. But despite there being a warrant out for his arrest, RadarOnline.com can exclusively report that Evans has scored a new ride.
"Jenelle got a new car, so she's more than happy," a source told RadarOnline.com.
According to the source, on Jan. 26, Evans was "getting a new car."
Evans even posted of picture of her shiny SUV on Instagram.
Article continues below advertisement
As RadarOnline.com exclusively reported, Evans filed larceny charges two days earlier against Griffith, accusing him of taking her car and along with it, personal items estimated to be valued at around $1,000.
While a warrant was issued for Griffith's arrest, law enforcement told RadarOnline.com that it hadn't been served yet.
"A misdemeanor warrant is not something we normally send someone out on," Lt. Brewer of the New Hanover County Sheriffs Department said in update to RadarOnline.com. "Additionally he does not live in this county. So unless he turns himself in or gets stopped by law enforcement for some reason, the warrant will most likely go un-served until one of those two things happen."
In the wake of Griffith taking her car, Evans was secretly hospitalized on three different occasions.
According to a source, doctors told her she was suffering from anxiety, but she still believed that the problem was more serious and was waiting for more testing results to come back.
On Feb. 1, the source told RadarOnline.com that Evans is still experiencing problems associated with her mystery illness.
"She's in bed in pain," the source said.
At least she has been under the watchful eye of her boyfriend, David Eason.
"David is very worried," the source said.
Evans also has been fighting with her ex over his visitation rights to see their 1-year-old son Kaiser.
One of their most recent arguments ended with Griffith threatening to take Evans to court.