Blac Who? Farrah Abraham Blasts 'Negative,' 'Sad,' & 'Weak' Kendall Jenner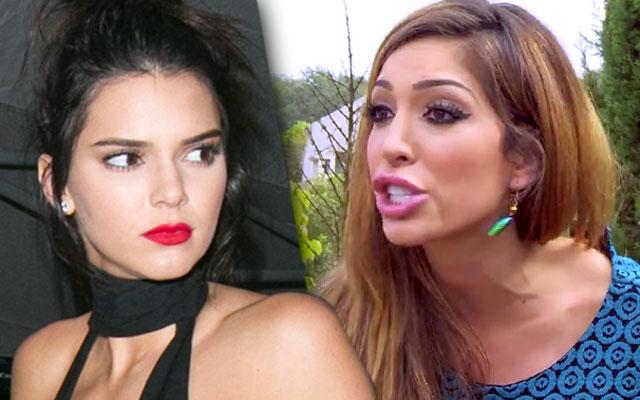 The feud between Amber Rose and the Kardashians is cooling after peace talks last night. But RadarOnline.com has learned another critic is stepping into the ring! Farrah Abraham blasted Kendall Jenner and Khloe Kardashian in an exclusive interview with RadarOnline.com, proving the reality TV family is not about to get a break any time soon.
Abraham has been on the defensive ever since the premiere episode of Kocktails With Khloe, when Snoop Dogg and Kym Whitley spoofed Abraham's feud with Nicki Minaj. In response, Khloe Kardashian's sister Kendall Jenner slammed Abraham, saying, "I just don't really agree with a lot of Farrah's decisions in life… I'm always team Nicki."
Article continues below advertisement
Kardashian agreed: "I'm team Nicki all the way."
Abraham, 24, wasn't about to let that fly.
"I just saw the clips," she told RadarOnline.com. "I just feel like it was sad if someone's in their own home talking and behaving that way about someone who they have never even met."
"I think people who are like that, they are weak individuals and if they don't stand up for what is right, then what is our world becoming? So that's why I stand firmly for what I believe."
Article continues below advertisement
Abraham didn't take offense by Snoop Dogg impersonating her, but more so with the fact that Kardashian allowed the skit to be performed in the first place.
"I thought Snoop Dogg was hilarious," she said. "He kind of failed at impersonating me, but other than that, it was like, negative."
"It's sad that that happened," Abraham continued. "I hope that they figure it out one day because they have kids around them and other people in their family and I don't really think that that's right."
"I don't agree, and I know that I'm in the right, and they are very much in the wrong," she continued. "So I wish them all the best, but I'm not a fan of them Kendall and Khloe."
As RadarOnline.com first reported, this new war follows close on the heels of Abraham's battle with Minaj.
Their fight began when Minaj criticized Abraham's bad behavior saying that, "Farrah is a c*** to her mother."