Farrah Abraham Blasts Nicki Minaj In Epic Twitter Feud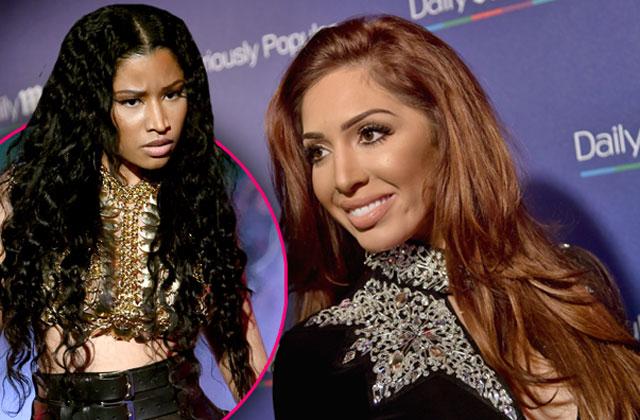 Nicki Minaj has taken her next celebrity victim!
Known for starting some of Twitter's most epic feuds, the controversial rapper recently called out Teen Mom OG star Farrah Abraham for being a bad mother to six-year-old daughter Sophia, and disrespectful to her own mother, Debra.
It all started with a tweet — as most celeb battles do these days. Minaj, 33, showed no mercy while criticizing Abraham's behavior on her hit-show, writing, "Farrah is a c*** to her mother."
Article continues below advertisement
But it didn't take long for Abraham to fight back. In mature fashion, the 24-year-old opted to take the high road (yas, girl) before getting back to her busy schedule.
"Cause your a parent right? Your videos look like porn Horrible good luck being negative #Godbless busy making TV," she wrote in response to Minaj's tweet.
A few hours later, Abraham also reminded the bootylicious pop star of her "slay" abilities.
"I slay I have no time for rerun watching ignorant minions like @NICKIMINAJ worry about your family #Watchandlearn," she wrote alongside a "wake, pray, slay" photo.
At least Taylor Swift is off the hook again!
Will Nicki pipe down or is this just the beginning with Farrah? Sound off in the comments below!