Finally: Bristol Palin Reveals Her Baby's REAL Daddy— And Demands Child Support!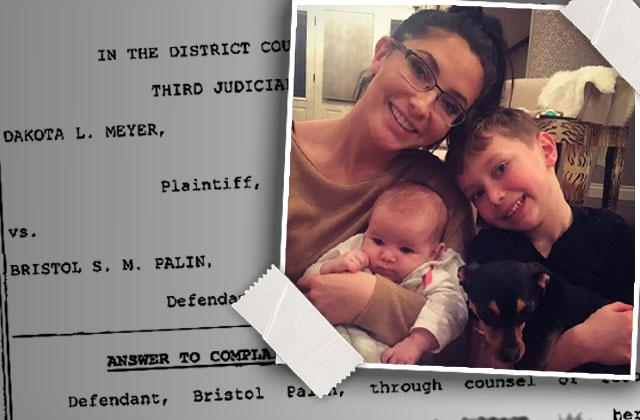 From one custody battle to the next!
Just days after a judge rejected her plea for baby daddy #1, Levi Johnston, to pay $66,000 in back child support regarding their son Tripp, Bristol Palin fired back at ex Dakota Meyer in court, RadarOnline.com can exclusively reveal.
According to Anchorage District Court documents filed obtained by RadarOnline.com, the single mother of two, 25, responded to her former fiance's claims that he is the biological father of her 2-month-old daughter, Sailor Grace, and demands for joint legal and physical custody of the infant.
Article continues below advertisement
READ THE SHOCKING COURT DOCUMENTS
The former abstinence spokeswoman "admits that Meyer is the biological father of the minor child, and that paternity has been established via DNA testing dated February 10, 2015 at 99.9957% certainty," her attorneys wrote in the February 16 papers.
However, she argued that "full joint legal custody may not be practicable," as Meyer lives far from her native Alaska in Kentucky.
She asked the judge to award her primary physical custody, but agreed to allow Meyer to visit his daughter "adjusted consistent with the child's age."
Though Meyer asked Palin for child support, she demanded the 27-year-old U.S. Marine Corps vet pay her for Sailor's care, and cover delivery and medical expenses.
As RadarOnline.com exclusively reported last May, Palin admitted she called off her wedding to Meyer last minute.
She announced her unplanned pregnancy the following month.
Despite her latest baby daddy drama, Palin posted a happy message on Instagram late last night.
"These babies are my world and I will always be doing what is best for them," she wrote. "Every child deserves two loving parents, so I will continue to encourage that no matter what, I have never, and will never, keep them from having positive relationships with their fathers."