Playing Both Sides! Kris Jenner Using Tyga & Blac Chyna For 'KUWTK' Ratings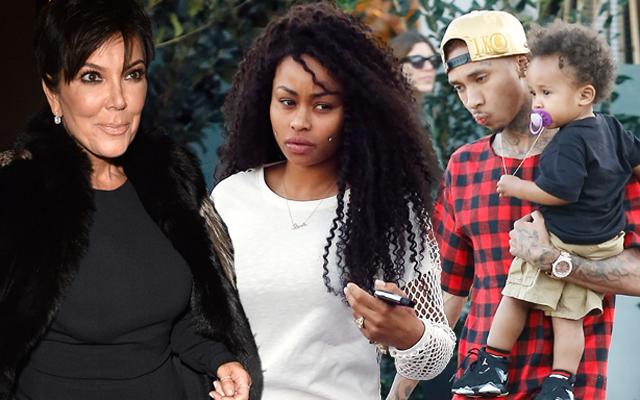 Kris Jenner has found another family she can manipulate for ratings! Insiders tell RadarOnline.com that the monster momager has inserted herself into the custody battle between Tyga and Blac Chyna, and is playing both sides so she'll come out on top.
According to sources, the 26-year-old bad-boy rapper boyfriend of Kylie Jenner, 18, just filed papers seeking full custody of his two-year-old son with his estranged ex baby-momma Blac Chyna, King Cairo, following her arrest for drug possession at Austin airport last week.
Article continues below advertisement
However, in classic Kardashian form, RadarOnline.com can exclusively reveal that 60-year-old momager Kris Jenner has a plan to turn Tyga's family tragedy into reality show ratings triumph!
According to a Kardashian family friend, "After Blac Chyna was arrested, Kylie asked Kourtney to help Tyga get custody of his kid because they knew that Kourtney just went through a similar situation with Scott."
Meanwhile, Blac Chyna, 29, is dating Rob Kardashian, 28, who just recently reconciled with his mother after a messy two-year cold war.
Coincidentally, Jenner has been spending a lot of time this week with her son and his new lady love and the source told RadarOnline.com, "This is all part of Kris's master plan!"
"She is insisting on playing mediator and middle man between Tyga and Blac Chyna," said the source. "Kris insisted that the reason for her doing this was 'for the sake of King Cairo' but it seems like she has ulterior motives."
The source added, "Everyone already knows what she is up to."
Do you think that Kris Jenner should be playing mediator in this situation? Tell us your thoughts below.