Kim K., Amber Rose & Blac Chyna Party Together After Kanye West Twitter Battle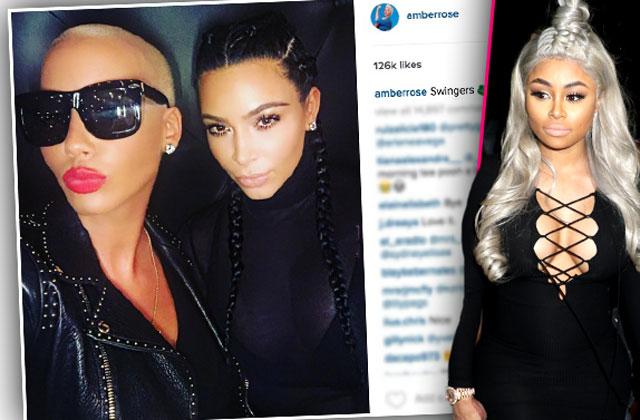 Water under the bridge! Just days after Kanye West dissed ex Amber Rose in an epic Twitter feud, the rapper's wife Kim Kardashian offered an olive branch — in the form of a girls' night out!
In the wee hours of Tuesday, Feb. 2, both Kim and Amber posted to their respective Instagram accounts, sharing a selfie of the two hanging out in a nightclub together.
"Tea anyone?" Kardashian, 35, captioned the photo, while Rose, 32, opted for a more risqué message, "Swingers."
Article continues below advertisement
Later, the duo stopped by Ace of Diamonds strip club in Los Angeles. Kim was (understandably) nowhere to be seen for that portion of the evening.
A SnapChat user even caught Blac Chyna throwing some cash on one of the club's dancers — shouldn't she be watching her back after spending the night in jail on Saturday?!
It's safe to say that everyone is confused over this incestuous and ever-changing friend pool. Even Kim's best bud Jonathon Cheban expressed his bewilderment over their unexpected hangout session.
What do you think about this unexpected alliance? Let us know in the comments below!